Safron's record day not enough to take down Montana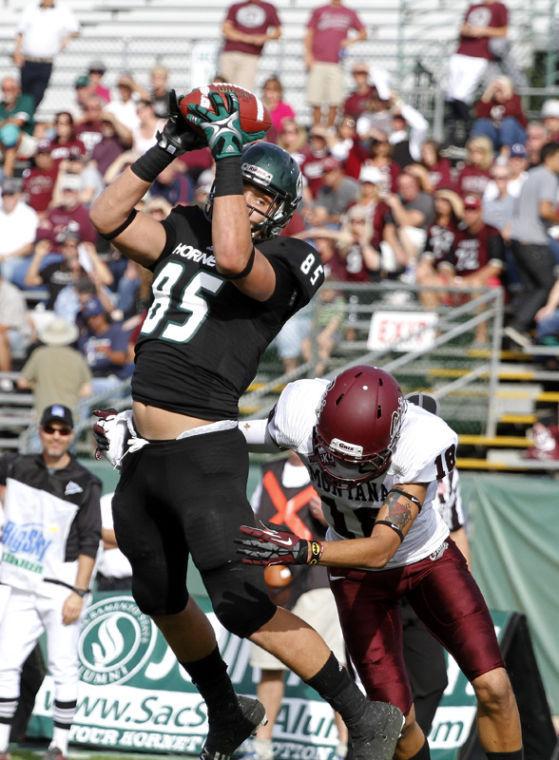 Sacramento State's Garrett Safron had a career day despite his team losing 51-48 to the University of Montana Saturday at Hornet Stadium.
The junior quarterback broke Sac State's single game records with 41 completions, 412 passing yards, and 505 yards of total offense. He also had six touchdowns, four passing and two rushing.
Following the game, Safron was visibly upset about the outcome.
"[It was] just a tough one to swallow pretty much," he said. "We did some good things out there, it just didn't come out the result that we would like."   
Safron also led the team in rushing with 20 carries for 103 yards.
Hornets' head coach Marshall Sperbeck was proud of the way his quarterback played even through two moments in the second half going down on the field twice only to end up walking off under his own power.
"[Safron's] a warrior, he's tough, he's competitive, he just keeps fighting the whole game," Sperbeck said. "He took a couple hits there, tough hits. But he kept getting up and competing. He played a great game for us."
The Grizzlies, had an efficient day on offense. Quarterback Jordan Johnson was 19-38 for 381 yards and two touchdowns and his running back, Jordan Canada, rushed for 80 yards and had four touchdowns.
Three of Canada's touchdowns were on fourth and one from the 1-yard line.
Montana's two top receivers, Jamaal Jones and Ellis Henderson, combined for 12 receptions, 323 yards and two touchdowns.
"[Henderson] did a pretty good job, he's tough and he executed well," Sperbeck said.
With 23 seconds left in the game, Sac State was down a touchdown and on the 5-yard line in the opponents territory. Safron found freshman tight end Cole Hikutini in the back of the endzone on a 5-yard pass where he bobbled the ball but regained possession before hitting the ground.
Hikutini had five receptions and two touchdowns on the day.
"[Hikutini] made a great catch, he's only a freshman too," Sperbeck said. "I'm excited to see him come along each week making progress."
In overtime, Sac State began with possession and kicked a field goal giving the Hornets the three point lead, but on Montana's first play of their possession, Johnson threw an over-the-top pass toward the end zone connecting with Henderson to win the game.
"We always like to score when we hit the red zone," Safron said. "Our mentality is to score touchdowns so getting that field goal definitely gave us the lead, but not the win."
Despite the records and injury scares by Safron today, the task at hand of winning for his team was his motivation to keep going.
"We tried to come out with a victory, unfortunately that didn't happen," Safron said.
Sac State is now (4-5, 3-2) in the Big Sky Conference.