Sac State prepares for rushing attack from Cal Poly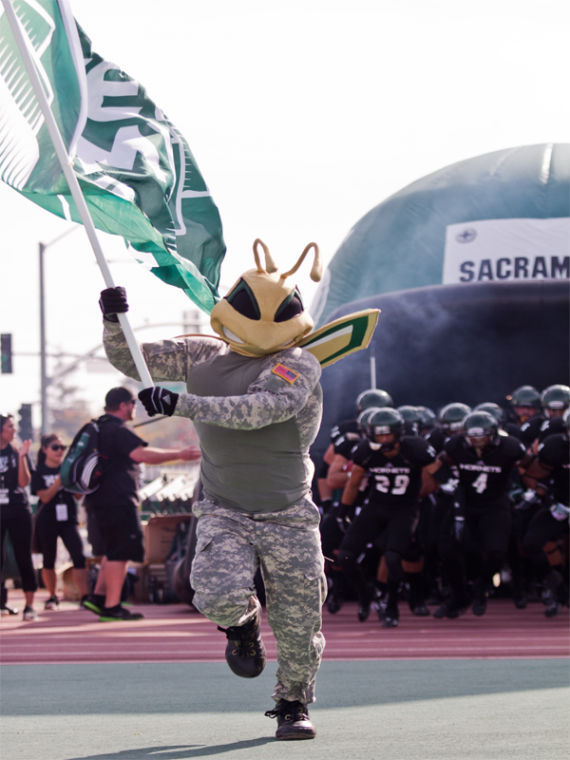 Matchup: Sacramento State at Cal Poly San Luis Obispo
Records: Sac State: 4-5, (3-2); Cal Poly: 4-5, (3-2)
Where: San Luis Obispo, Calif.
When: Saturday, Nov. 9 at 6:05 p.m.
Players to watch:
Coming off of a performance that garnered a Big Sky Player of the Week award, junior quarterback Garrett Safron looks to continue his momentum against Cal Poly. Safron broke three Sac State single game records in attempts, completions and total yards in the overtime loss against Montana. He has thrown for 22 touchdowns this season and is two away from breaking the Sac State single season record.
The rushing attack of Cal Poly has been its strength all season. The duo of quarterback Chris Brown and running back Kristaan Ivory have combined for 1,286 yards and 12 touchdowns on the ground. They both have rushes over 70-yards. Defensive lineman Sullivan Grosz has accumulated 6.5 sacks this season.
Preview:
The offensive and defensive lines of Sacramento State are both expected to factor into Saturday's game against Cal Poly San Luis Obispo.
Sac State accumulated 580 yards of total offense in last weeks loss to Montana. Quarterback Garrett Safron accounted for 505 total yards, throwing for 412 yards and rushing for 93 yards.
The offensive line has opened running lanes and given time to the quarterback this season. The Hornets have only given up five sacks in Big Sky Conference play.
"We do our best to protect him and give him as much time as we can. We just try to keep guys off him, try to keep him healthy," senior offensive guard, Tyler Worthley said.
The O-line has gone one game at a time this season and it continues to stick to what works.
"We're pretty solid up front," Worthley said. "If we try and go out there and change a lot of things, I think that would cause us more problems and if we just stick to our rules and stick to our technique, I think we'll be alright."
This weeks opponent, Cal Poly, sports a defensive lineman in Sullivan Grosz who has four sacks in Big Sky play ranking third in the conference. He also has 9.5 tackles for a loss on the season.
"[Grosz] is a good player but you can't really do anything special, you just have to work hard during the week and we'll be good," Worthley said.
Cal Poly also boasts a heavy rushing attack. It has 497 rushing attempts compared to just 180 passing attempts this season. Hornets' head coach Marshall Sperbeck cites Cal Poly's offense as physical and opportunistic.
"They're a very physical team, they do a great job on both sides of the ball," Sperbeck said. "As far as being patient and waiting for you to make a mistake, I think they're offense is very disciplined and they keep pounding it at you."
Hornets' sophomore defensive end Darnell Sankey wants the defense to play sound defense to slow down the Mustangs.
"We're facing a completely different offense for one, we're just trying to get our assignment execution ready," Sankey said. "Play pound for pound, tough physical defense to try and stop the run game."
The Hornets are taking these next three games as win or go home with a chance at making the FCS playoffs.
"Stay positive, it's been a tough season (with) lots of ups and downs," Worthley said. Some of us only have three games left in our career so we have to play every one like it's our last."