Hornets struggle offensively in loss to Oregon State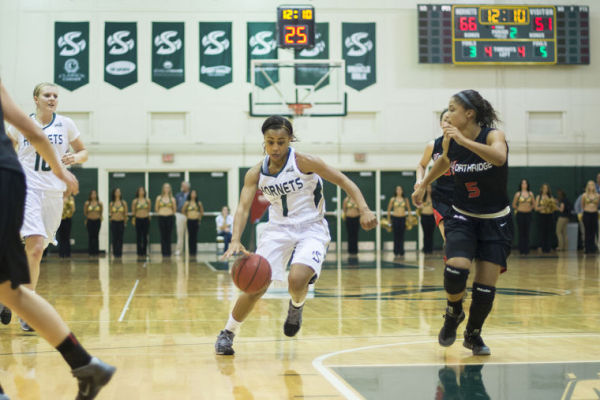 Sacramento State's women's basketball was poor offensively in its first road game of the season Friday, falling victim to Oregon State.
The Hornets lost 102-80 to the undefeated Beavers (3-0). The 102 points is the most Sac State has given up since Nov. 11, 2011 when Oklahoma scored 117 in a Hornet loss.
Senior guard Alle Moreno struggled to shoot the ball as she went 0-9 from the floor, including 0-6 from 3-point territory. She scored all six of her points from the free throw line.
In the Hornets' first two games of the season, Moreno converted 55 percent of her field goal attempts and 60 percent of her 3-pointers.
Junior forward Shanti Smith came off the bench for the Hornets to score 15 points hitting three 3-pointers.
As a team, the Hornets shot just 32.5 percent from the floor and 30.8 percent from 3-point range. Oregon State was ranked first in the Pac-12 in field goal percentage against entering Friday's matchup.
Oregon State's sophomore center, Ruth Hamblin, had 18 points, 10 rebounds and three blocks to lead to the Beavers.
Freshman forward Kolbie Orum tallied 16 points, eight rebounds, and three assists off the bench for Oregon State.
Offensively, Oregon State was 37-69 on the evening and attempted 37 free-throws, converting 25.
Sac State (2-1) will continue its three game road stretch when it takes on another Pac-12 member, Oregon (2-0) Sunday.