Togo's sandwich cart employee transferred to a different position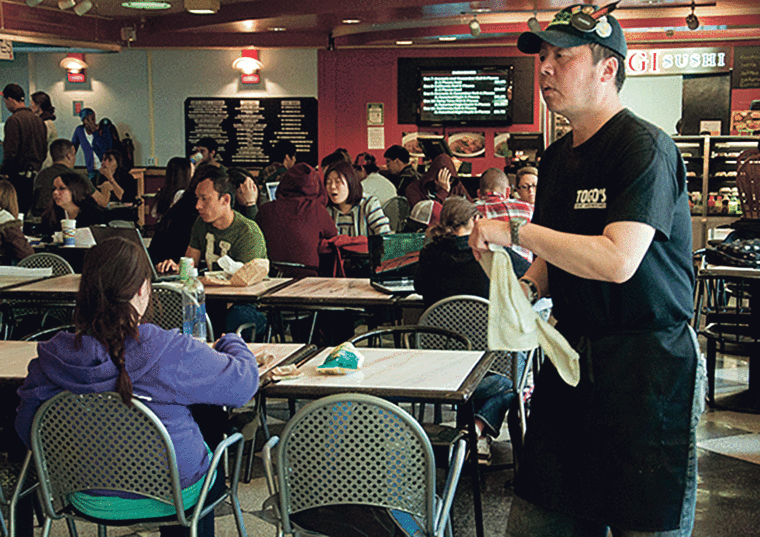 Camille Anglo and Imran Majid
October 16, 2013
Cheng Wang, a well-known former Togo's worker and Sacramento State alumnus, is no longer operating a food cart on campus.
The Togo's sandwich cart, which is owned and operated by Sacramento State University Enterprises Inc., was closed down due to a significant decline in sales during the spring.
"Sales from the UEI-owned and operated cart declined significantly and last spring the cart operated at a loss," Jim Reinhart, the UEI Executive Director said in a statement. "Accordingly, UEI made a business decision to discontinue the cart operation."
Director of Marketing Services Angela Rader said UEI equates food carts as another type of campus eatery, and Wang was not the only employee to operate one.
"The cart's operation had nothing to do with Wang," Reinhart said. "Who operates the cart is not a factor."
Reinhart said there are several costs associated with operating a food cart such as maintenance, food preparation, safety and cash management.
He said sales hit a downward trend prior to the spring and the decision was made to close the cart in August because it continued to operate at a loss.
At the start of the fall semester, that recognizable voice of "It's a lunchtime!" was no more.
Now Wang, the longtime employee of Togo's currently works as a weekly on-call dish washer at the Dining Commons.
The Sac State alumnus had become a familiar campus personality to students and staff by greeting them as they passed by.
"He was there since I started here. I just got used to him," said Natalie Mandujano, 21, a senior dietetics major. "He was also really nice when I went to River Front, because he'd be there sometimes."
Wang, a native of China, has lived in Sacramento for 24 years.
He came to the U.S. in 1989 to complete his master's degree in mechanical engineering.
In 1993 Wang had a debilitating stroke that cost him his ability to walk and his job as a full-time HVAC engineer.
"I started (school) in the spring of 1990," Wang said. "I was a full-time mechanical engineering student with 3.97 GPA and I got my degree. Two months later, I got a stroke."
Wang said that he was fortunate enough to finish his education before his stroke affected his life.
"I'm so lucky I finished school," Wang said. "Before I got sick, I had a full-time job."
Wheelchair bound, Wang spent a year recovering in a nursing home.
"One day, my church priest had dinner with us and asked what was the worst thing, and I said the wheelchair. I can't walk," Wang said.
After working to gain his motor skills back, Wang was able to get a job as an on-call translator UC Davis Medical Center for 10 years until 2011.
He was also a full-time translator at the Translations and Language School for two years until its closing in 2000.
After the Translations and Language School closed Wang got his well-known job as an employee at the campus Togo's.
Originally working behind the cash register, Wang began at Togo's in 2002 where he became a well-known and recognizable campus personality while working the sandwich cart.
Wang's popularity among students included a Facebook fan page created by Sac State alumnus Kyle Madson in 2009 called "SAAAAAAAAAAAAANDWICH AND SODA!"
Also, T-shirts emblazoned with Wang's "It's ah lunchtime!" slogan was sold by the Sac State club, Engineers without Borders in 2010.
Business junior Brenda Martinez, 20, said she spoke to Wang a couple times a week on campus.
"I think Cheng is a very inspiring person who really cares about the students," Martinez said. "He always has a smile on his face and has a strong faith despite all the challenges in his life."
Wang said what he missed about working the Togo's cart was his daily interactions with customers.
"I love the customers because they're like my family," Wang said.