Running backs shine in Sac State debut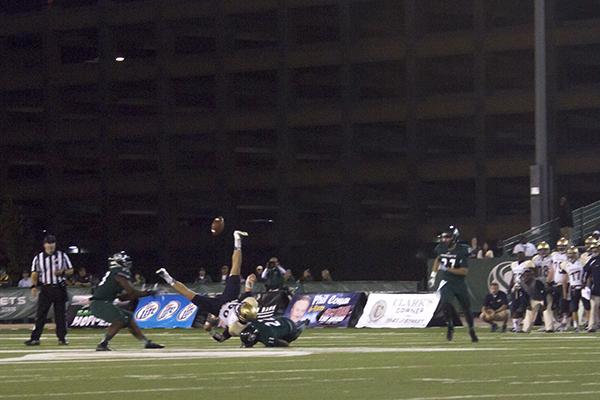 It was a night of firsts for Sacramento State as the Hornets took down Northern Colorado Saturday on Homecoming.
With the win, Sac State is now 2-0 in Big Sky Conference play for the first time since joining the conference in 1996.
Running backs, true freshman Jordan Robinson and junior transfer Brandon Kellermann, made their Hornet debuts and were an integral part in the team's 37-21 victory over the Bears.
Robinson made his first career start while Kellermann broke into the game in the third quarter.
Robinson made his way into the starting lineup after senior Ezekiel Graham did not play due to an ankle injury and freshman Demetrius Warren was sidelined with a shoulder injury.
"I was excited, nervous, everything you could think of," Robinson said. "I'm just trying to come out here and do me."
Robinson finished the game with 144 total yards and a touchdown. He also had a 53-yard reception in the second quarter, which tied the longest play from scrimmage this season.
Kellermann credited the running back corps camaraderie with its success.  
"We're kind of like a tight knit group, whoever is getting the ball, if I'm in blocking or anyone else is in blocking for me, we're sharing the love," Kellermann said. "It's good to see [Robinson] score – I'll lead block for him for the rest of the season."
Kellermann replaced Robinson in the third quarter after Robinson suffered a minor injury.
Kellermann's first carry was a 14-yard run where he ran through missed tackles. He finished with 72 yards on 15 rushing attempts.
"[Robinson] and I both knew the weight of the situation due to all the running backs being out," Kellermann said. "We practiced really hard, every day (and) we came in really prepared with the mindset and all the hard work put in throughout the week."
Robinson and Kellermann were not the only Hornets to have a good game. The duo of junior wide receiver DeAndre Carter and junior quarterback Garrett Safron combined for three touchdowns. Carter rushed for his first-career touchdown in the first quarter on a 15-yard reverse.
Carter now has 10 touchdown receptions, making him only the fourth player in school history to reach the mark in a single season. Safron now has 16 passing touchdowns on the season.
Head coach Marshall Sperbeck was proud of his team's play today.
"We got into a good rhythm (and) I thought [Safron] did a good job of running the offense," Sperbeck said.
The defense played well against the rush by allowing only 46 yards, its lowest rush yards-against this season. Senior linebacker Todd Davis finished the game with five tackles and he pulled in his first interception of the season.
Northern Colorado did its damage through the air with quarterback Seth Lobato throwing for 340 yards, one touchdown and an interception. Receivers Dimitri Stimphil and Jace Davis finished with a combined 252-yards receiving.
The only downside for Sac State was a missed point after attempt following a Robinson 1-yard touchdown run. It was kicker Jesse Aguilar's first missed PAT at any level of football he has competed in.
Sperbeck praised the running game and Robinson and Kellermann's ability to handle themselves.
"When opportunity knocks, you've got to take advantage of it and you've got to make the most of your opportunities when it hits you," Sperbeck said.
Sac State will return to Hornet Stadium next week to face Northern Arizona University at 6:05 p.m.