Pour House serving up classic drinks at the Prohibition-style bar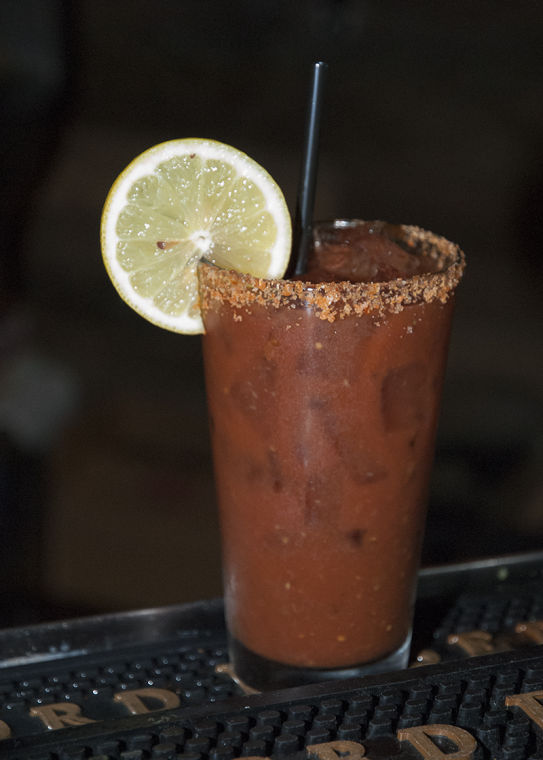 After a long stressful day, a refreshing beer or cocktail is always satisfaction to the lips.
Pour House in Midtown offers locals an extensive list of whiskey, beer, specialty cocktails, house-made syrups and Preservation & Co. preserves, made and created the gastropub's general manager Jason Poole.
The Prohibition-style bar, which opened its doors to the public in August 2012, was established by co-owners Trevor Shults, part of Barwest, and Bob Simpson who also owns Social Nightclub.
Employees are encouraged to dress in Prohibition-era attire, but it is not mandatory and the pub has a high standards for the appearance of its employees and they must look well-dressed and well-groomed.
Whiskey Fig, one of Pour House's specialty cocktails, is a mix of Glenfiddich, a 12 year old scotch, freshly squeezed lemon juice, simple syrup, Angostura aromatic bitters and a scoop of fig preserves. The drink is then shaken, strained over a large cube of ice into a rocks glass.
The fig preserve used in the drink is also a product of Preservation & Co, a local Sacramento company dedicated to preserving food such as cayenne carrot sticks and Sriracha salt.
Bar manager Kathleen Cannon said the most popular liquors ordered at Pour House are the Hibiki Scotch, Pappy Van Winkle, a 23 year old bourbon and Jameson Vintage Irish Whiskey.
Pour House entered its Bloody Mary recipe into a contest hosted by Absolut Vodka and out of 792 entries, Pour House earned a No. 1 rating in California and No. 2 nationally for 2012.
Even though there was a cash prize for the award-winning mix, Pour House had to relinquish its rights of the recipe to Absolut in accordance with contest rules.
Poole said he has also entered his own recipes into the contest and has earned first and second place in multiple years.
Poole, who also owns Preservation Co. will also featuring his own award-winning mixture of Bloody Mary using different picked vegetables like cracked peppercorn asparagus and habanero dill pickle chips.
Pour House bartender David Walsh had been working at the pub since the doors first opened because of the mix of customers that frequent the bar.
"I absolutely love and enjoy working here because there are such a wide and collective variety of people that come in," Walsh said. "We have a huge collection of bourbon, Scotch, rye whiskey [and] beers."
"Whether it's domestic or craft beers and people come in and want to learn about craft cocktails," Walsh said. "Most of the bartenders here are extremely knowledgeable, friendly and know what they're doing. You can ask [the bartenders] any questions and [they] are more than willing to teach you what you're drinking."
Pour House was one of the first places in Northern California to have drink taps on tables. The owners of Pour House researched bars in Southern California who also had this concept and decided it was something he wanted to incorporate into their bar.
Each booth at Pour House has two beer taps and one tap with Jameson Irish Whiskey.
"It's a cool concept," Walsh said. "You can sit there and feel like you're the bartender and pour it yourself."
There is a regulator in each tap that detect difference between the actual liquid and foam being dispensed so customers don't lose out on product. A screen built into the tabletop tracks and displays the amount of product the customer has consumed.
But it is not a free-for-all with the beer and liquor. Servers have control over turning table taps on and off. The table tap beers change on weekly bases.
Pour House also hosts large parties or groups that want make reservations and pay in advance. The groups are catered to with five-gallon kegs with choice of beer.
Pour House also has an open jam event every Thursday. James Cavern, a rising star Sacramento, is in charge of promotions, booking bands and plays guitar and sings at the open jam.
The jam allows anyone to show up with an instrument or to play an instrument the pub already has on-hand. The stage is open to a variety of musicians whether it be for a solo performance or an on-the-spot collaboration with a stranger.
Fridays are live bands nights at the Pour House. Management tries to mix it up with a diverse group of bands ranging from up-and-coming, Sacramento favorites to bands just stopping through on tour. The pub transcends musical genres with folk, rock and rock and blues music.
Masters counseling student, Annie Jakovac, 25, said she loves to visit Pour House to have a cold brew during the week.
"The place has a beautiful bar and a chill atmosphere," Jakovac said. "It's awesome that they are open to having local artists play there as well."
Pour House extends outside with a patio and back bar where you can get a better view of the railroad tracks. When a train passes, it usually signals a drink discount.
Sammie Moreno can be reached at [email protected]