INK Eats and Drinks celebrates 10 years of being a local favorite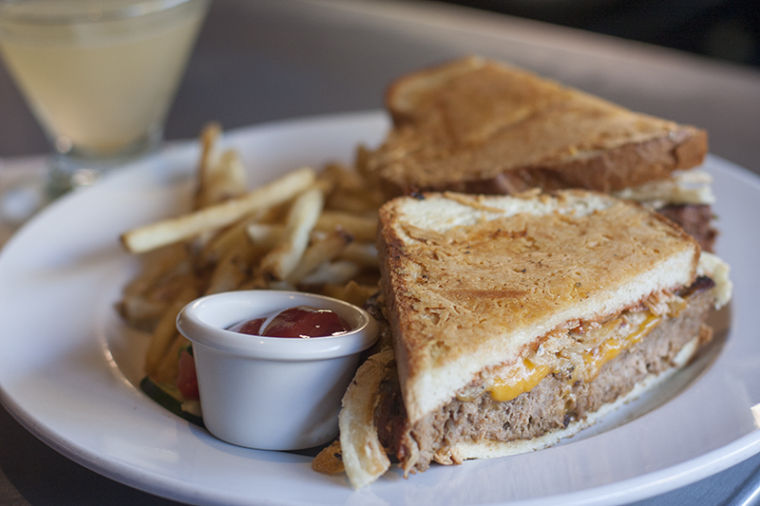 The Midtown American bistro featuring house-made dishes and thirst quenching cocktails,INK Eats and Drinks, is celebrating its 10-year anniversary.
Bar manager Christina Arntson, who has worked at INK for five years, said the restaurant on N and 28th streets is a favorite among locals because of its friendly staff.
"It's like the show Cheers, everyone wants to know your name," Arntson said. "It's such an easy thing to do and people really appreciate it."
Owner Chris Nestor came up with the name INK when he envisioned his restaurant with an aesthetic tattoo-styled theme filled with original and classic artwork. Nestor enlisted the help of local tattoo artists from Forever Tattoo, Eiland Hogan and Brent Patten, and other Sacramento artist to create original artwork to display all over the ceiling of the restaurant.
David Garibaldi is a performance painter who finished as a the top-five contestant on the seventh season of "America's Got Talent." Garibaldi has some of his work on display at INK, which includes a large mural piece.
INK's unique daily specials like Weird Wednesday trivia night and Tattoo Tuesday help set the bistro apart from other eateries in the area.Tattoo Tuesday offers $3 drink specials to inked up customers from 8 p.m. to close – if they are willing show some skin.
Even with the midweek specials, INK's Friday happy hour and Sunday brunch are a big draw for the restaurant.
While most places are closing down, INK pulls in an after-hours crowd complete with a DJ, which completes the after-party setting.
The bistro's general manager, and former bartender, Nancy Martis said the combination of food and music always makes for a good crowd.
"It's nice because people can have a place to come enjoy good music and good food," Martis said. "It's still continuing that club-ish atmosphere after the clubs have closed."
Martis and Arntson said they know customers who frequent the restaurant two to three times a week for lunch because they enjoy the food, drink and the company INK has to offer.
Senior Sociology major Maxwell Garrigan, 21, said he enjoys visiting INK during its late hours.
"INK is the best place to get late-night food after the bars close," Garrigan said. "The food is so good, you won't be disappointed."
Martis said The vibe at INK is fun, energetic and friendly. Guests could walk in and sit at the bar not knowing a single person and walk out the restaurant with a new friend.
Sacramento State organizational communications alumnus Donald Dealie has been living downtown for more than three years and cannot find a place that tops INK's food and atmosphere.
"The urban design and modern music fills the place with all of the interesting people Sacramento has to offer," Dealie said. "From tattoo artists to business people alike, you never know who you will enjoy a delicious meal next to."
The staff at INK is very friendly and remembers regulars by name and what they order – it is all a part of the personal connections and building friendships with the new customers.
INK offers delicious American-style dishes, such as a pan seared salmon BLT, roasted turkey dip, or shredded pork sandwich.
Martis said her favorite and most ordered sandwich is the mouth-waterin meatloaf made from scratch with cheddar & crispy onions on grilled parmesan bread.
"Our food is really good, comforting and inexpensive, but I think one of our greatest attributes is our staff," Martis said.
Because tasty sandwiches and comfort food are a staple, INK also hosts a monthly five-course food and drink tasting event every second Wednesday of the month from 6 to 8 p.m. The event will showcase INK's cider cocktail tasting in October, which tickets are being sold for $30 in advance and $35 at the door.
The Porn Star and Tramp Stamp are two drinks that have become tradition on INK bar menu.
The oldest and most popular drink is the Porn Star cocktail, which consists of Grey Goose pear vodka, pear nectar & simple syrup.
The Tramp Stamp is like a coconut Cosmo without the vodka, consisting Captain Morgan Parrot Bay coconut rum, cranberry juice, fresh lime juice & triple sec.
Arntson said the restaurant likes to create a positive vibe by working with a great staff.
"We do try to keep a great staff surrounding us," Arntson said. "We're like a family here and everyone takes care of each other."
Sammie Moreno can be reached at [email protected]