Bisla's Sports Bar and Grill provides popular hangout for students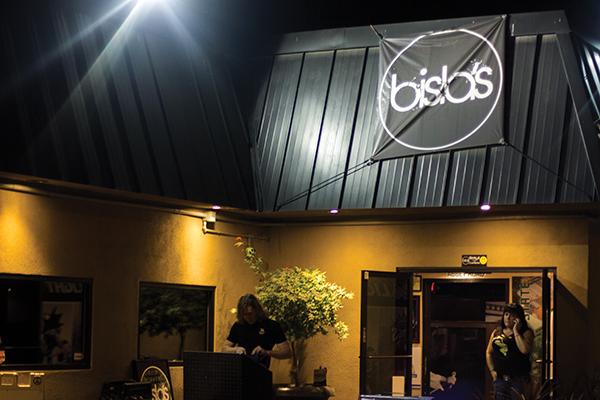 State Hornet Staff
September 11, 2013
Located on a bare stretch of road on Folsom Boulevard just a short walk from the Sacramento State campus, Bisla's Sports Bar and Grill is a popular bar in the community but hopes to be more prominent in the college community.
The bar and grill, which won the 2013 Best Sports Bar on KCRA's A-list awards, is undergoing changes to attract more of the college crowd.
Bisla's creative director and Sac State alumnus, Tim Harris, said the new owners have taken pride in revamping the beloved bar and want it to become the bar where everyone knows your name.
"The overall concept of Bisla's is great sports, great food, great drinks and fun nightlife," Harris said. "We've always wanted to be something (where) the community feels like it's local community place and a local watering hole, something to the effect of (a) "Cheers" bar as well as serving out fresh food."
Bisla's Sports Bar and Grill, formerly known as The Grad and then Bojangles, has transformed as time went on.
The bar and grill was purchased by the late Bob Bisla who bought it from his brother in 2009, and now it is going through an overhaul to make it a quality bar for the community.
Harris said the new owners, Gino Sardo and Ray Lettini, are working to make Bisla's Sports Bar and Grill more welcoming for students, staff and faculty.
"It's a great place for the community because of the owners. (Sardo) and (Lettini) are Sacramento locals and (Sardo) is a Sacramento State (alumnus) as well," Harris said. "For Sac State, every college has that bar or restaurant next door. We're working to position ourselves to support the events or the different happenings of the sports organizations (and) student groups."
Under the new ownership, Sardo and Lettini have worked with the bar's general manager, Jacob Kariker, to improve the menu with fresher ingredients and made to order dishes, Harris said.
"We've redone our menu (with) all fresh ingredients and it's not frozen anymore. That was a huge transition," Harris said. "It's just really good quality food, nice cocktails and a great place for students, faculty and staff from Sacramento State or alumni to come and watch football games or to tailgate before hand. It's just a great community and restaurant."
Bisla's server Nick LaPorte said he sees a vast improvement with the bar's makeover.
"I like the atmosphere. I like the food we serve," LaPorte said. "It's all natural ingredients and I like that we're serving that food because it makes (customers) happier that we're serving them fresh ingredients.
"It's not too expensive and I like that we're located right next to Sac State because it's a good excuse for students to come over but not a lot of students know where (Bisla's) is because it's hidden away."
Harris said the bar also extended the drink menu, which includes the college classic Jack and Coke to more upscale drinks like watermelon mojitos.
Although numerous changes have been made to the bar's food and drink menu, Bisla's Sports Grill and Bar has kept many of the weekly events that made CBS Local name the bar one of the best nightlife spots for the under-21 crowd.
Harris said the bar has kept the popular Tuesday College Night and Western Wednesdays with hopes that it will still be a big event for future students and alumni.
"The old Bisla's had some great stuff," Harris said. "Tradition, especially with college students and having the ability for alumni to come back in 10 to 15 years and have their kids go into a college night that they remember going to it. I think that's part of what we like to keep and like to have with Bisla's."
Sac State alumnus Matt Tyner, who has not gone to the bar in four years, said the changes he sees greatly differ from what he recalled.
"The bar has evolved from four years ago. It was just different," Tyner said. "There was a sound stage up there that no one played on, the back room wasn't even open yet. The bar wasn't established and there wasn't much food and it was kind of like a weird place.
Tyner said in comparison to how the bar used to be, it changed for the better and keeps improving.
"It originally was kind of weird and then it changed and then it got better and better," Tyner said. "It just feels more welcoming and more comfortable. From what it was and what it is now, (with) the change (it) is a great place now. We don't get bars like this anymore."
Despite all of the changes, the only person who is unable to see the bar's future potential is former owner, Bob Bisla, who passed away in March.
Harris said Bisla was supposed to be a part of the bar's renovation, but his death affected the community.
"I know Bob was going to work with the new ownership," Harris said. "Unfortunately, with Bob's passing, that was no longer the case. Bob did a good job starting the bar, but I do feel it's just a sad event for Bisla's and a sad event of that owner to took his own life and how that happened."
Even though Bisla's death impacted the community and the people that worked with him, Harris said his death was a catalyst for change in the bar.
"Every time there's a traumatic accident or event, you have to go back to the drawing board," Harris said. "He had a good following of people, he had a lot of students and friends in the local community.
"It was a sad moment for the entire Bisla's community, but we're hoping to turn a new page and take a step in a new direction improving our relation with Sacramento State."
Even with all the changes made to the bar, Harris said that there is always room for more improvement.
"We're not quite where we want to be, but we're there," Harris said. "We're moving in the right direction. After it's been all said and done, we want people to think that is Sacramento State's college bar."
Camille Anglo can be reached at [email protected]