Big Sky Conference Football Preview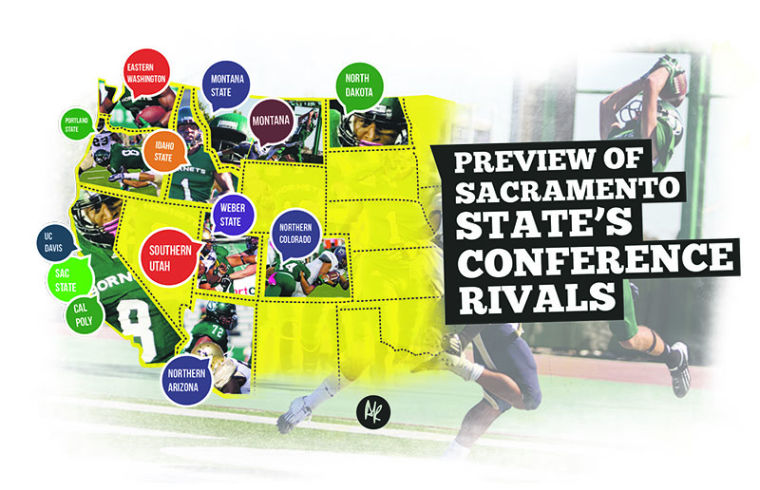 Ryan Kuhn and Curtis Manlapig
September 25, 2013
Idaho State
Current record: 2-1; 2012 record: 1-10, 0-8 conference
Mascot: Bengals
City: Pocatello, Idaho
Key Players: QB Justin Arias, RB Xavier Finney, WR C. Richmond, LB Mitch Beckstead
Profile: Quarterback Justin Arias has averaged 336 yards per game, completing a team high 26 receptions to wide receiver Cameron Richmond. Running back Xavier Finney has been efficient on the ground already running for 185-yards on 37 attempts. The leader on defense has been linebacker Mitch Beckstead. Beckstead has allotted 26 tackles, two of which were for a loss.  
Montana
Current record: 3-0; 2012 record: 5-6, 3-5 conference
Mascot: Grizzlies
City: Missoula, Mont.
Key Players: QB Jordan Johnson, RB Jordan Canada, RB Travon Van, WR Ellis Henderson, DE Zach Wagenmann
Profile: Montana is currently ranked No. 9 in the FCS national rankings. The Grizzlies have outscored their opponents 132-37 in three games led by quarterback Jordan Johnson and standout defensive end Zach Wagenmann. Montana uses a two running back system with running backs Jordan Canada and Travon Van., who have accounted for 444 rushing yards on 77 attempts with five touchdowns. Johnson has been very efficient this season completing 77.1 percent of his passes that accounted for 664 pass yards and eight touchdowns. 
Eastern Washington
Current record: 2-1; 2012 record: 11-3, 7-1 conference
Mascot: Eagles
City: Laney, Wash.
Key Players: QB Vernon Adams Jr., WR Ashton Clark, LB Ronnie Hamlin
Profile: Eastern Washington was last season's Big Sky Conference co-champion and lone representative in the FCS playoffs. Currently ranked No. 2 in the FCS, the Eagles began the season with a victory over FBS Pac-12 member, Oregon State. Quarterback Vernon Adams is second in the FCS with 12 passing touchdowns. Linebacker Ronnie Hamlin leads the team with 24 tackles. Hamlin is a candidate for the Buch Buchanan award going to the best FCS defensive player in the country. 
Montana State
Current record: 2-2; 2012 record: 11-2, 7-1 conference
Mascot: Bobcats
City: Boseman, Mont.
Key Players: QB DeNarius McGhee, LB Alex Singleton, 
Profile: Montana State is the the third ranked FCS team in the country. The Bobcats boast a high-powered offense who will be without quarterback DeNarius McGhee through October. McGhee started 40 straight games for Montana State before suffering a shoulder separation injury against SMU. The defense is led by talented linebacker Alex Singleton. Singleton has had an impressive season, picking off 2 passes, one going for a touchdown. He also has 38 tackles and 1.5 sacks. 
Portland State
Current record: 3-1; 2012 Record 3-8, 2-6 conference
Mascot: Vikings
City: Portland
Key Players: RB DJ Adams, DB Dean Faddis, C Mitch Gaulke, RB Shaquille Richard
Profile: The offensive line for Portland State has been their strength this season. Center Mitch Gaulke, an honorable mention All Big Sky player last season anchors the O-Line. The Portland State running game is the strength of this team. Led by running backs DJ Adams and Shaquille Richard, the Vikings have combined for a total of 1,359-yards this season and scoring 16 touchdowns. Safety Dean Faddis plays all over the field racking up 35 tackles including 1 interception. 
Southern Utah
Current record: 3-1; 2012 Record 5-6, 4-4 conference
Mascot: Thunderbirds
City: Cedar City, Utah
Key Players: QB Aaron Cantu, K Colton Cook
Profile: QB Aaron Cantu, who has taken over for last year's second team all Big Sky Conference quarterback Brad Sorenson, has thrown for 5 touchdowns while completing an impressive 69.5 percent of his passes. Preseason All American kicker Colton Cook has hit on 5-6 field goals this season including a game winner against FBS school South Alabama.    
Cal Poly 
Current record: 1-2; 2012 record 9-3, 7-1 conference
Mascot: Mustangs
City: San Luis Obispo, Calif. 
Key Players: RB Kristian Ivory, WR Willy Tucker
Profile: The Mustangs look to get back atop the Big Sky Conference led by senior running back Kristian Ivory and their wishbone option offense. This season Ivory has averaged 112.3 yards rushing that included three touchdown runs. Although their offense primarily is on the ground and controlling the clock, Cal Poly will on ocassion  air it out to junior Willy Tucker who on Sept. 7 caught five passes for 126 yards. 
North Dakota
Current record: 1-2; 2012 record 5-6, 3-5 conference
Mascot: none
City: Great Falls, N.D.
Key Players: QB Joe Mollberg, QB Ryan Bartels
Profile: Standing in the shadow of the two-win FCS champion North Dakota State sits the University of North Dakota. Head coach Chris Mussman likes to split the quarterback duties and the pair of freshmen will take over for Brandon Hansen and Marcus Hendrickson who each threw 15 touchdowns apiece. This year Mussman's new freshmen quarterbacks Mollberg and Bartels have gone a combined 63 percent passing completion with six touchdowns and four interceptions. 
Northern Colorado
Current record: 1-3; 2012 record 5-6, 4-4 conference
Mascot: Bears
City: Greeley, Colo.
Key Players: QB Seth Lobato LB Max Flores
Profile: Last season, the Bears' five wins were more they had in 2010 and 2011 combined. Head coach Earnest Collins Jr. led Northern Colorado with upset wins against Portland State, Weber State and North Dakota to end last season. Quarterback Seth Lobato and linebacker Max Flores lead a 27-man senior class. Currently, the Bears are ranked in the Big Sky 10th in offense and 8th in defense.
Weber State
current record: 1-3; 2012 record 2-9, 2-6 conference
Mascot: Wildcats
City: Ogden, Utah
Key Players: RB Bo Bolden
Profile: Weber State has struggled this season with its defense, giving up an average of 55.8 points, but has shown some promise on the offensive side of the ball. Junior running back Bo Bolden already had a 100-yard kick return this season and is currently eighth in school history with 3,476 all-purpose yards. 
UC Davis
Current record: 0-4; 2012 record 4-7, 3-5 conference
Mascot: Aggies
City: Davis, Calif.
Key Players: QB Jimmy Laughrea
Profile: UC Davis is under the direction of new head coach Ron Gould, replacing the retiring Bob Biggs after 20 years with the Aggies. Gould served as the running backs coach at UC Berkeley. Sophomore quarterback Jimmy Laughrea stole the starting job from senior Randy Wright. This season, Laughrea has thrown for 562 yards with one touchdown and four interceptions.
Northern Arizona 
Current record: 2-1
Mascot: Lumberjacks
City: Flagstaff
Key Players: P Andy Wilder, RB Zach Bauman, CB Anders Battle
Profile: Northern Arizona is currently ranked No.24 in the Sports Network FCS Top 25. The Lumberjacks' defense has been a scoring threat turning three interceptions into touchdowns. Despite losing by 35 to FBS power University of Arizona in week 1, the defense turned it around and have only given up 26 points in two Lumberjack victories. Punter Andy Wilder has pinned teams deep with an average of 44-yards and a season-long of 66.
Ryan and Curtis can be reached on Twitter at @sh_sports