Snickerdoodle cookies from your childhood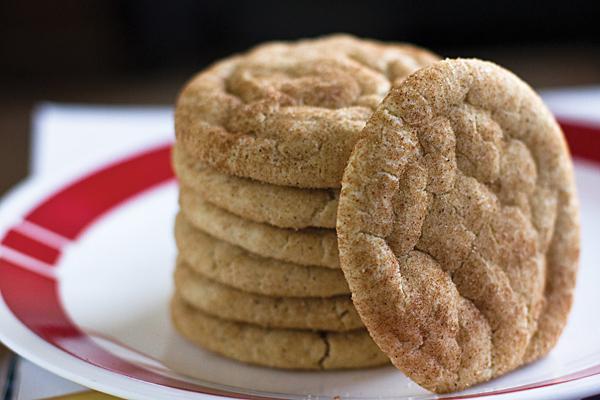 Some of my best memories growing up are helping my mom bake large batches of cookies on the weekend.
She would have me sit at the counter so I could watch her mix the ingredients – hoping I would learn how to make something in the kitchen. She attempted to teach me how to cook things like corn tortillas, so I could pass on the Mexican tradition; however, every tortilla I ever made had so many holes, it looked more like a fishing net than something edible.
Baking was the only thing that interested me enough to put effort into.
I was captivated watching my mom muster up the strength, despite her petite frame, to mix stiff oatmeal cookie dough with a wooden spoon then delicately shape each cookie with her slender hands.
The most memorable part was watching the cookies rise in the oven and turn golden brown as I childishly dismissed my mom's warning of the carcinogenic effects from standing too close to the appliance.
Fascinated by this experience, I wanted to learn everything I could about baking. By age 12, I was a self-pronounced "cookie pro."
My favorite cookies to make were – and still are – snickerdoodles. They're similar to a sugar cookie but have a cracked appearance from the sugar-cinnamon topping. According to "The Joy of Cooking," the name comes from the German word "Schneckennudeln," which translates to "snail noodles."
I've weathered many baking magazines and scoured the internet in search of the perfect snickerdoodle recipe and have finally found one I have no intentions of further tweaking.
The cookies are flattened before baking so they have a crunchy outside and a chewy texture on the inside. The cinnamon/sugar topping adds extra sweetness and a woody fragrance from the cinnamon.
This recipe is adapted from chewnibblenosh.com.
Snickerdoodles Serves: 18
1/2 cup butter, softened 1/2 cup sugar
1/3 cup brown sugar
1 egg
1/4 teaspoon vanilla extract 1/4 teaspoon almond extract 1 1/2 cup flour
1/4 teaspoon salt
1/2 teaspoon baking soda 1/4 teaspoon cream of tartar
For rolling:
2 tablespoons sugar
1 teaspoon cinnamon
Preheat oven to 300 F degrees.
In a large bowl, cream the butter and sugars with an electric mixer on high. Add the egg, vanilla extract and almond extract then mix until smooth.
In a separate large bowl, whisk the flour, salt, baking soda and cream of tartar. Add the flour mixture to the wet ingredients and mix well.
Allow the dough to rest in the refrigerator for 30 to 60 minutes, or until dough is firm enough to handle.
In a small bowl, combine the two tablespoons of sugar and cinnamon for the topping.
Once dough is firm, scoop out about 2 1⁄2 tablespoons of the dough and roll it into a ball. Roll the ball in the cinnamon/sugar mixture and place it on a cookie sheet sprayed with cooking spray. Repeat for the remaining cookies. To evenly press the cookies down, use the bottom of a glass and flatten until they are each about 1/2-inch thick.
Bake the cookies for about 12 to 14 minutes or until the edges feel firm to the touch. Let the cookies cool on the tray for about five minutes before transferring to a cooling rack.
If I ever have kids, I plan to teach them how to bake and create similar memories I shared with my mom growing up.
I just hope they don't expect me to cook for them as well.
Cristina Lule can be reached at [email protected]