Sac State professor arrested under suspicion of vehicular manslaughter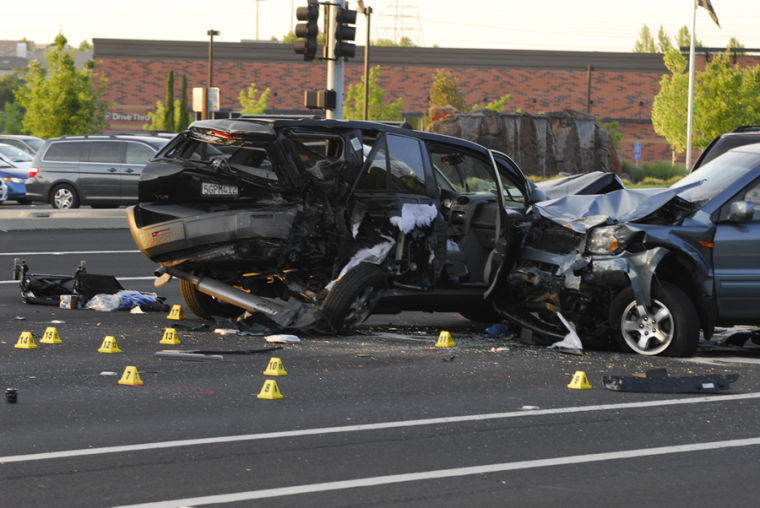 Sacramento State associate Professor Jordan Peters was arrested at the scene of an accident in Roseville April 30 on suspicion of gross vehicular manslaughter and driving under the influence, according to a press release by the Roseville Police Department.
Police said witnesses noticed a blue Honda Pilot operated by the suspect driving recklessly before colliding with a Saturn SUV containing 69-year-old Roseville resident Robert Alan Weaver and his wife. The Weavers were stopped at a red light on the Roseville Parkway.
Weaver was taken to the hospital and pronounced dead while his wife remains in serious condition. One other driver was taken to the hospital after complaining of pain.
Police said Peters was booked into the Placer County Jail but was later released after posting $250,000 bail.
Police said the accident involved a total of six cars, but no other drivers were hospitalized.
Representatives from Placer County Assistant District Attorney Jeffrey Wilson's office said the case was submitted to the office Monday and it will have to be reviewed before any comments can be made on the case.
Peters is scheduled to appear in court June 3. Until then, she will remain out on bail.
Sac State Director of News Services Kim Nava said the university has not made an official statement regarding the suspected DUI and vehicular manslaughter, but Peters is still employed by Sac State.
Peters teaches employment law and legal environment of business as part of the undergrad program for College of Business Administration. Senior Associate Dean of the College of Business Administration Suzanne Ogilby will be making arrangements for classes until the end of the semester.
Junior general management business major Moriah Nordahl took Peters' legal environment of business class during fall 2012.
"I was just shocked when I heard because she was just a really good teacher," Nordahl said. "She was just a really good person. She was always talking about her son and seemed like a really good mom."
Nordahl said although Peters was little spacey at times, she never suspected her professor had any issues with drugs.
Peters earned a bachelor's degree from Ohio Dominican University in 1991 before gathering a master's degree and doctorate in 1994 at Ohio State University while attending its College of Law.
According to her Sac State biography, Peters held a clerkship in California's Central District as a part of the federal judiciary system.
Peters went on to practice employment law and business law in defense of multinational Fortune 500 companies, according to her law firm's website.
Peter was hired at Sac State in fall 2002; she is a tenured member of the faculty.
In 2009, Peters opened a downtown Sacramento law office where she continued to practice employment law. The phone number for the office is no longer in service and Peters could not be reached for comment.
Nordahl said Peters' approach to teaching was practical. Nordahl recalls Peters using cases from her law practice as tools for learning.
"She brought in a lot of working knowledge that made the class interesting," Nordahl said. "We didn't have a textbook, which was nice. She just had actual working cases that she brought in that illustrated what we should be learning. It was more real stuff versus something out of a textbook."
Nordahl said Peters would cancel scheduled classes often due to practicing law.
"It was fine with me when she missed," Nordahl said. "(At least) when she did come she had good information for us."
Nordahl described Peters as being available outside of class to answer questions through emails, text or phone calls.
"Obviously she made a bad decision," Nordahl said. "I think we have all made bad decisions, but unfortunately hers came out really, really bad. At this point I just feel bad for her and the victims' families."