Homemade horchata beats the heat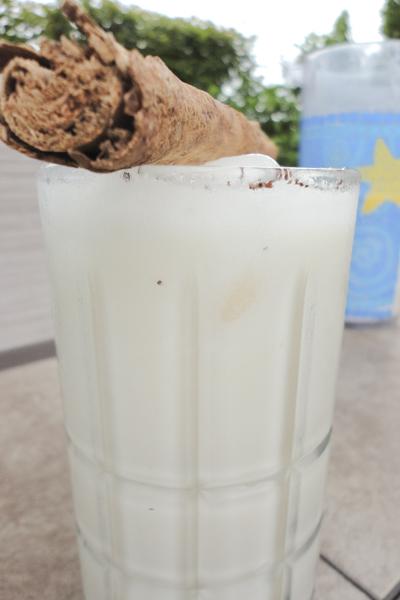 On uncomfortably hot summer days, I'm reminded of a sweet and refreshing drink my mom used to make to help cool off from the unwelcome heat.
Recently, I asked my mom to show me how to make Agua de Horchata – also known as cinnamon rice milk – from scratch. I was surprised to learn the complexity of the drink's flavors is easy to achieve in a few steps.
In Mexico, the drink is traditionally made with white rice, water and cinnamon. However, Horchata is believed to have originated in Valencia, Spain where tigernuts were used instead of rice, according to chufadevalencia.org.
Although the drink now comes in a flavored drink mix form at many grocery stores, don't let its convenience fool you. I've found there's no substitute for homemade Mexican-style Agua de Horchata that easily puts any of its packaged and shelved competitors to shame.
The rice is soaked in water for a few hours before it's blended and strained so the water becomes perfumed with the surprisingly sweet and slightly nutty aroma of the rice. The cinnamon adds a woody fragrance and the sweetened condensed milk adds both a smooth creamy texture and sweetness to the drink.
Agua de Horchata
1 cup white rice, uncooked
5 cups of water
1 cinnamon stick
1-14 ounce can sweetened condensed milk
1-12 ounce can evaporated milk
1 teaspoon vanilla extract
½ cup sugar (optional)
Ice
Rinse the rice in a colander.
In a medium-sized bowl, let the rice soak in two cups of water for at least one hour.
Add the rice and the water it was soaking into a blender with the cinnamon stick and blend until finely ground.
Strain the blended ingredients into a pitcher and discard the remaining rice.
Add the remaining three cups of water, sweetened condensed milk, evaporated milk and vanilla extract to the pitcher, and mix well. Taste to check for sweetness. If necessary, add the sugar until it's as sweet as desired. Add ice and serve cold.
For a nice presentation, pour the Horchata in individual glasses, add ice and a cinnamon stick in each glass, so it bobbles like a straw.
You can also maintain the spirit of this scorching season by making Horchata Popsicles. 
Just pour the Horchata in plastic Popsicle molds and freeze for a few hours.
Horchata is so sweetly intoxicating, you will find you cannot wait until next summer to have it again. As the Vampire Weekend song suggests: it's good even in December.