Sac State grads launch new successful soda line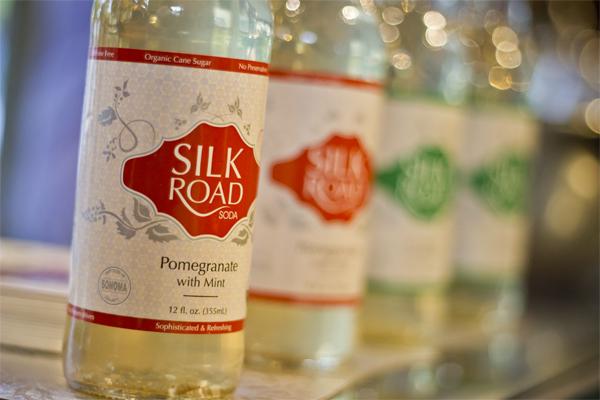 Two Sacramento State graduates have bridged East and West with a new Mediterranean beverage that extends the age-old Silk Road to the Sacramento region.   
Silk Road Soda founders Payam Fardenash and Srijun Srinuanchan met through the master's of business administration program at Sac State.
Fardenash is in sales and Srinuanchan is a scientist, so the two teamed up in March 2012 to launch a Persian-inspired carbonated beverage company that links culture and community.
It began with a family recipe of a traditional lemonade-like drink found in Iran, Greece and India. Fardenash wanted to recreate the drink his grandmother made for him during his early childhood when he lived in Tehran, Iran, for 10 years.   
"I found some syrups but they weren't really good, so then I thought, 'Boy, if we could carbonate it then what that would do is bring the Eastern flavor to the West because everyone wants a little carbonation here to mix with their drink,'" Fardenash said.
The two entrepreneurs started getting their name out by mixing the drink themselves and distributing it to people at parties.  
Fardenash said getting people involved and looking for innovative ways to make the product better helped the business.
"We just gathered so much steam in development that people were excited when it was coming out," Fardenash said.
Bottled in glass bottles – an idea of Srinuanchan's – the vinegar-based drink has no preservatives, no artificial chemicals and goes through a pasteurization process.
"We're not adding any preservatives, any B12 (or even any) stevia. Nothing.  Because my grandmother wouldn't have approved that," Fardenash said.
The three basic flavors of original mint (Fardenash's grandmother's original recipe), cucumber mint and pomegranate mint are drawn from the Iranian culture, where Fardenash said fruits and vegetables are bought at a fruit market rather than a store so that they are very fresh.
Having the best ingredients for the drink was a big deal, Fardenash said.  
"We used a flavor scientist company that actually balanced it and brought the calories down about almost 60 percent and still made a flavor that was close enough for me (to the heritage)," Fardenash said.
Mariann Isola, owner of Opa! Opa!, a Greek and Mediterranean restaurant near Sac State, said they started selling Silk Road Soda because it was a complement to the food they serve.
"Their drink is not only unique, (but) it has that special refreshing taste," Isola said. "When people come here they want something healthy – they want something unique and fresh – and so I thought that would be the perfect complement."
Fardenash said he sees the pomegranate flavor lending more toward the regular soda drinker, while the cucumber is more for the "foodie" crowd. Buyers at Whole Foods Markets opted for the original.
The Persian drink can now be found in stores like Sunrise Natural Foods and Whole Foods Market and is being sampled in downtown bars Red Rabbit, Shady Lady and Mix.
"So there's a small group that has us, but that's how you gather (a) kind of strength," Fardenash said. "Because we've actually had customers go into Sunrise Natural Foods and then take our bottles into Whole Foods and say 'Why don't you have this?' So then, Whole Foods called us when that happened."
Isola said she supports Silk Road Soda because it is a local company.
"We're a local independent restaurant and I like the fact that they're a local company," Isola said. "We kind of have to take care of each other in that respect."
Fardenash said having 20 people involved in the process contributed to the development of the product.
"I mean we don't live in a huge town. But we live in an awesome little village. I mean, you'd be surprised at how much the community has been involved in this," Fardenash said. "I can't believe it. We've grown so quickly."
Fardenash said the distributors are coming fast now. The two soda makers want to eventually take their product to San Francisco, Los Angeles and north to Seattle and Oregon. But the team is using the Red Bull model – bringing the product to the market by staying in one community until you outgrow it – and they are staying local for now.
"Exploring the market here and then receiving capital, whether it's angel investing or venture investing (will) allow us to move into other larger markets," Fardenash said.
Srinuanchan said creating Silk Road Soda required a lot of work, but it is just knowing how to work with people and solve different problems.
"Honestly, I found climbing Mount Kilimanjaro in Africa harder –  both mentally and physically – than creating Silk Road Soda," Srinuanchan said. "But the main difference is that it took me six days to climb (Mount Kilimanjaro). With (Silk Road Soda), currently there is no 'top' – there is no 'finish line' – there's just a daily climb."
Srinuanchan is from Laos and Fardenash is from Iran, so they said Silk Road Soda is the unification of their culture and location.
"I don't think culture divides us. I think culture gives us our own little story to tell. So that actually brings us together," Fardenash said.
When Fardenash took the soda to a Persian restaurant, he said the owner took one drink of it, took it back to his wife who is the cook, and, without a single word, she came out and gave Fardenash a kiss.  
"With no hello, with no this or that," Fardenash said. "(The kiss) brought back a memory for her and that was awesome. It (was) the stamp of approval from an Iranian woman who could barely speak English. That was rad for me."