Sac State celebrates Earth Day with recycling bins and dunk tanks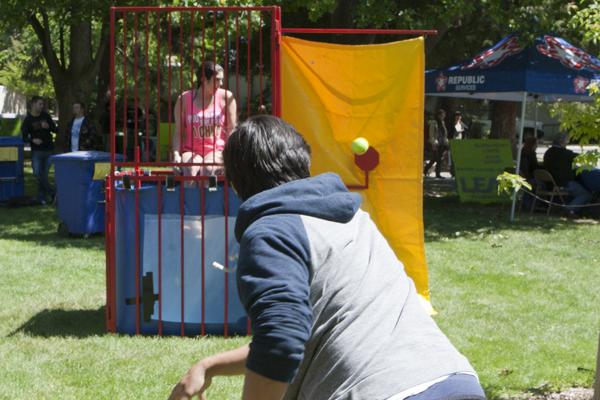 Sacramento State Facilities Services hosted the university's premiere Earth Week event Wednesday in the Library Quad.
The celebration included PG&E, SMUD and other vendors from the Sacramento area, each with its own booth setup. The four Greek councils that represent Sac State also took part in the event.
 "We've been going to club meetings for months to pitch about our plan for Earth Day," said Facilities Services Sustainability and Operation Analyst Kristina Cullen. "With the vendors, we just called them up and we sent out invitations letters."
The Greek council added a dunk tank to help draw interest to the event. Cullen said students were encouraged to collect recyclables and for every five pieces retrieved, participants received one ball to take a shot at dunking members of the Greek council.
"They asked me if I wanted to (sit in the dunk tank chair)," said junior public relations major and dunk tank victim Brielle Nevill. "I didn't respond to the email so I guess I volunteered."
Nevill is the President of the Alpha Chi Omega sorority.  Her sorority, along with other members of the Greek system, added the event to calendar for Greek Week.
Greek Week is a competition between fraternities and sororities where they tally points from various events.
"If we're going to throw (bottles and cans) away anyway, we might as well throw them in recycling," said senior biochemistry major and member of Sigma Pi Justin Butterfield. "Fraternities and sororities are known for drinking a lot, so if we are going to have the cans, we might as well bring them for something good instead of throwing them in the trash."
The event included recycling points for bottles, cans, e-waste, clothes, shoes and batteries.
Cullen said the Keep California Beautiful campaign organized a cigarette-butt brigade to collect butts, while the Sacramento Tree Foundation planted a dozen trees around the outer edge of campus.
"Earth Day is usually a time where there is a big push (for PG & E community events) because we are one of the leading environmentally friendly utilities in the nation," said PG & E account manager for Sac State Kris Matulich. "Anytime we can get out and promote the right message, we take advantage of it."
Matulich said attending the event at Sac State is important because although students are not currently homeowners, educating them now could mean saving energy in the future. 
Earth Week wraps up Friday, but Cullen said she tries to plan earth conscious events at least once a month.