Martin returns home as softball travels to Portland State this weekend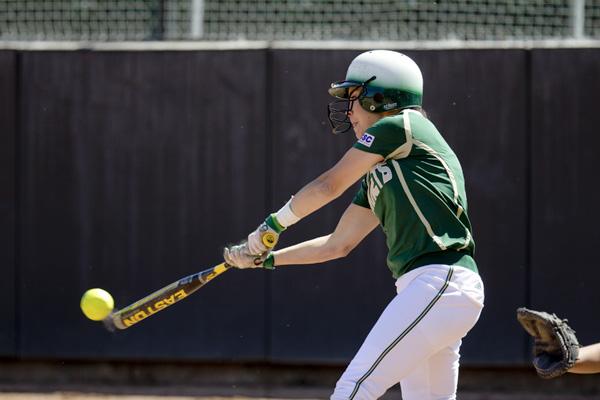 After taking a week off from competition, Sacramento State softball is will push toward the finish line as it heads to Portland State, where one Hornet is looking forward to making the trip to a place she calls home. 
Sophomore right fielder Paige Martin grew up fifteen minutes from Portland State in the nearby town of Vancouver, Wash. and will play in front of her family for the first time in her collegiate career.
"It will be nice to see my family this weekend," Martin said. "My family and friends are excited to see me and to see us come away with a conference win this weekend."
Martin leads the team in four offensive categories, including batting average, total hits, total bases and slugging percentage. She is also ranked fifth in batting in the Big Sky Conference with a .360 average. 
Heading into this weekend's series against the Vikings, the Hornets (20-16, 5-4) are currently in fourth place in the Big Sky Conference.
The Vikings (16-25, 9-3) are currently in second place, but with a series win, Sac State could possibly surpass Portland State. 
"I think we would ideally want to win the series against Portland State, but they usually play well against other teams at home," said softball head coach Kathy Strahan. 
This season, the Vikings are in the top three in the Big Sky in all team categories, including team batting, team pitching and team fielding. Sophomore infielder Brittany Hendrickson leads the Portland State team in four offensive categories. 
"We watched the series against Portland State and Idaho State, and we saw that both teams are great offensively and both fought hard in those three games," said senior infielder Lauren Blair. 
Both Sac State and Portland State have the two best pitching staffs in the Big Sky Conference.  Hornet sophomore pitcher Caitlin Brooks has a 1.24 ERA and Vikings senior pitcher Anna Bertrand has a 3.31 ERA. Most likely, the two will face off against each other at least once this upcoming week.
Freshman second baseman Kayla Papez said the Hornets usually play better when the competition is better.
"We need to counter balance their offensive power with our pitching staff and our defense has to back up our pitchers in order to contain their bats," Papez said.  
Sac State will start the series against Portland State this Friday. First pitch is at 2 p.m.
Clifton can be reached on Twitter at @jonesSHsports