Junior Erika Busch embraces the life of a Hornet rower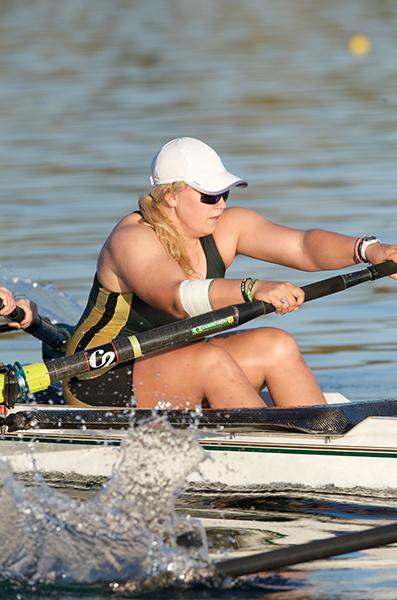 An athlete since the age of 4 and throughout high school, Sacramento State's junior rower Erika Busch didn't expect to continue a life that revolved around sports – but she wouldn't trade it for anything.
Busch was a vivacious and energetic child while growing up – so much so that her parents began looking for an outlet to channel all of her energy into something constructive.
"I was a temperamental kid – outgoing and kind of crazy," Busch said. "My parents decided to put my energy into a sport and they chose soccer first."
Both of Busch's parents were athletes. Her father Nelson Busch received a scholarship to be on the track and field team at the University of Wisconsin and her mother Lise Busch skied and played tennis. Naturally, they encouraged her to be just as active.
Erika said she was completely against playing soccer until Lise Busch convinced her to play just one game, which resulted with the 4-year-old making her first three goals.
Erika found her passion.
"She was a beast. She played hard and would get some hard knocks," said her father and soccer coach Nelson Busch. "When she was a kid, I substituted a word in her vocabulary. We replaced the word 'owie' with 'trophy.' So when she'd get bruises I'd tell her, 'That's a trophy for all the effort you put in and the bravery you had when you stood there and took that shot.' So she'd come to me and say, 'Hey dad, look at the trophy I got today.'"
Her father said while a lot of kids were distracted on the field, Erika was in the goalie position, crouched over and sidestepped to follow and focus on the ball even when it was on the other side of the field.
"She got that athletic gene. You can't instill it in a kid because it's something you're born with," Nelson said. "You either got it or you don't – Erika had it."
Since then, Erika has participated with volleyball, basketball, track and field, swimming and rowing teams. There has never been a moment in her life that was void of sports.
"Erika has been fierce since she was born. She's very competitive," said Lise. "When I wanted to teach her how to ride a bike, she kept crying and saying how she didn't want to. I said, 'Just cross this line and that's it.' She finally said okay, got on her bike and rode right past it. She turned around and said, 'See mommy? I went way past it!' That's Erika. She's given a challenge and she goes past that line. Once we figured that out with her, we'd work with her in her sports, school and studies."
Erika said it was rough, but she learned how to balance her education and sports while attending Del Oro High School in Loomis. At one point she balanced three different sports and school, jumping from practice to practice.
Between her junior and senior year in high school, she was introduced to rowing. Her mother encouraged her to learn at the Sacramento State Aquatic Center and it was not long before she joined the Capital Crew team.
As the practicing grounds for Sac State's rowing team, head coach Mike Connors saw Erika in action and recruited her.
"I wasn't planning to play sports in college because I played sports all my life. So I was just like, 'Okay I'll just focus on my academics now,'" Erika said. "I went on a recruiting trip. (Sac State) liked me and offered me a scholarship. So I took it. (I was) getting my schooling paid for to play sports, (so) why not?"
Erika has been a Hornet athlete since 2010. As a freshman in college, she was immediately placed on the novice eight and varsity four boats because of her prior experience.
She has earned a bronze medal with the varsity eight squad, a silver medal with novice eight and a gold medal with varsity four at the Western Intercollegiate Rowing Association Regatta championship.
Beyond her skill athletically, Erika is known as one of the inspirational members of the team. Senior rower Karoline Sly said she considers her one of the most trustworthy and positive members.
"After a race, if it didn't go well, she always says to look at the positive side. She's always picking people up and making people laugh," Sly said. "People look to her if they're having a bad day to feel better because she always has the right thing to say. She puts all her effort into everything – in rowing and in friendship."
Her parents agree she has always been that type of athlete. Nelson said she is constantly encouraging those around her.
"She has this incredible team spirit and consideration for others. She has this charismatic quality that makes people around her perform at their best," Nelson said. "She hasn't been the top athlete, but just by her spirit she lifts others to do better than what they would otherwise ordinarily do."
Her family consistently supports her at every race and stands by when she needs it most. Her mother Lise said the best support she's given her is just to talk and listen. Lise said she is confident in her strong and well-rounded daughter.
As a student athlete, Erika said she considers rowing and her education as her full-time job. During the season, the team practices six days a week, which leaves just Sundays as the team's only break.
"You get used to it. Rowing is such a rhythm sport that it causes you to have a rhythm within your life too," Erika said. "Practice is a release from school and school is a release from practice. So they counterbalance pretty well."
Erika said that, for the most part, her life consists of studying, rowing, school, eating and sleeping. However, when she does find the time to relax, she likes to read, watch movies and spend the majority of her time in the fresh air.
Once her eligibility for rowing is up in the spring 2014 semester, she said she hopes to study abroad at the Kingston University in London. If she is able to go, she said her dream is to row in the Eton Dorney Lake where the 2012 Olympics were held.
Her choice to major in business marketing was due to the broad options available. Although she is not exactly sure which path she wants to take, she's optimistic about what the future holds.
"I'm waiting for something that clicks – everything has always clicked in my life," Erika said. "Like with rowing I was like, 'Yeah, this is right,' and I haven't regretted a moment."
Erika plans to graduate in the fall 2014 semester and wants to move to the northwest to receive her master's degree.
Even if she doesn't end up rowing professionally, Erika is confident that she will never stop. She said the sport of rowing is "in her blood."
"She's got the heart of a champion. I don't care what you put that kid in," Nelson said. "Your body has to function physiologically to be able to compete. But after that, the difference between one athlete and another is what's in their heart and how far they'll go. Erika has a heart of gold."
Maikalina can be reached on Twitter at @sh_sports