Drag queens sing and dance while emphasizing self-confidence and focusing on LGBT issues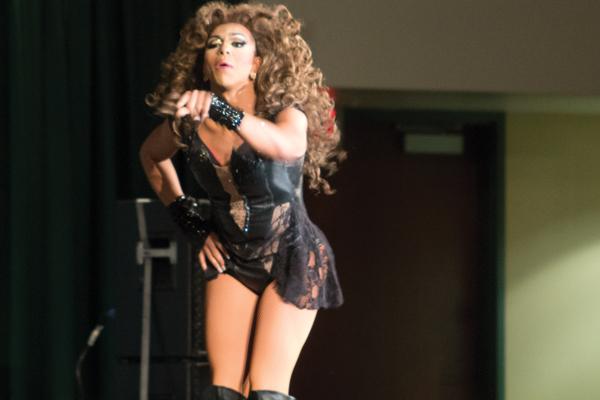 Raja and Shangela are two divas who know all about diversity. These two RuPaul's Drag Race contestants came to diversity on Thursday to diversity their stuff and share their stories of diversity they became the people they always dreamed of becoming.
The night opened up with both divas performing lip-syncing and dance routines. Shangela transformed into the one and only Beyonce and performed most of the Super Bowl performance. Raja chose to do a more low key performance. When the house lights came back on, it was the audience's chance to get all their questions answered.
During the question and answer session, Shangela interacted with a spunky 8-year-old girl. Raja asked the girl who she liked on the show and what she thought of the whole performance; but the girl got straight to the point and asked Shangela and Raja who they thought would be eliminated next on RuPaul's Drag Race.
At one point Raja said she thought she was getting proposed to because one young man was nervous about asking his question. She lightened the mood as she laughed and said, "One knee, get down on one knee. (laughs) What's your question baby?"
The divas also talked about some of the more serious issues facing the LGBT community such as HIV/AIDS and Prop 8. Both of them have been affected by HIV/AIDS in their lifetime. Raja recalled being back in the '90s and the stigma that went along with not only being gay, but being HIV positive.
"I remember way back in the '90s you couldn't be gay or have HIV without there being a stigma attached to you. But now it's all about being proud and having pride in who you are," Raja said.
Both Raja and Shangela talked about the journey they took to get to where they are. They said that no matter what, they have always followed their dreams and kept in mind the person each of them wanted to be.
Sacramento State student Spruce Patalon came prepared in his PRIDE week drag.
"The show brought awareness to campus about LGBT issues and it was great to have all these different types of people in one place on campus talking about these issues," Patalon said.
The idea for the drag show came from Sacramento State's Panhellenic Council. The female Greek students on the council saw the same type of show at one of their workshops during a convention in Washington D.C. Panhellenic collaborated with both the PRIDE Center and the Multi-Cultural Center on campus to see the project through.
The conversation touched on some of the most intimate topics, ranging from choosing drag names, to the drama that unfolded on television, to the diva's childhoods and where they grew up. One Sac State student asked, "I am just starting out in drag, do either of you have any advice or words of wisdom?"
"Be confident in everything you do and screw what anyone else thinks," Shangela said.
The divas ended by telling the audience that with a lot of faith and hard work, anybody can get where they want to be in life, and that as long as you are happy it doesn't matter what anyone else thinks.