Cancer survivor organizes gaming competition to fund cure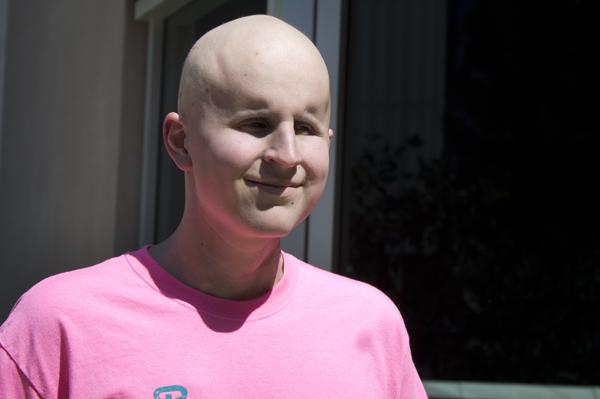 Whether it be fighting cancer or starting his own non-profit gaming organization, Austin Young has learned to play on. 
On Thursday, Young will host a video game competition called "Gaming for a Cause" in Sacramento State's Union Lobby Suite in an effort to raise money for cancer-related charities. 
The charity event will be the first one Young has held at any university and will run like a tournament where participants pay a flat fee of $20 to compete for a $200 cash prize – a prize that any gamer can easily achieve.
"(There's) a very realistic opportunity to win," said 2005 Sac State alumnus Aaron Grossman, who organized the event and reached out to Young. "Facing off against each other playing Black Ops 2 – free-for-all tournament style – means gamers only have to beat four out of eight players in order to get into the second round."
The games to be played include "Call of Duty: Black Ops 2" and "Ultimate Marvel vs. Capcom 3." 
 Young said he wanted the tournament to cater to all types of players.
"(Ultimate Marvel vs. Capcom 3) is a fighting game and there's a whole separate crowd for it aside from Black Ops," Young said. "I mostly play first-person shooter games – so Call of Duty, Battlefield, things like that. But I do play a lot different types of games also."
With a team of volunteers from previous "Gaming for a Cause" events – which have been held monthly at a Fuddruckers in Citrus Heights over the last year – Young said he would only supervise and leave the gaming to everyone else.
"We're going to be the ones running it," Young said about him and his team. "So we have a whole crew that's helping set up and all that. Everyone's a volunteer. No one's paid. Most of the people that are going to be here are people who've helped in Citrus Heights and have come along onboard and wanted to help earlier."
Based on his past events, Young said he expects a decent turnout with regards to attendees. 
"Our goal is about 100 people, but we really have no idea how many will come on the day of because most people will sign up at the door," Young said. "At our Fuddruckers events, we probably get at least 50 people monthly."
Young also said he hoped to raise a certain amount of money because of his earlier success. 
"I can go off our Fudduckers ones, which is probably (in) total, including all the donations and stuff, $100 to $1000 after each event – sometimes more sometimes less."  
Austin's father, Dave Young, said his son's efforts help a lot of young adults gain real-world experience by holding official positions in a non-profit organization.
"(They're) your-age guys, and they're all volunteers every one of them," Dave Young said. "They're there eight hours on a Saturday night and then they have monthly meetings on top of that. I think it's just really cool. These kids are learning how to run a business at young age."
What makes Austin Young stand out in this cause is the fact that he's battled and survived cancer since he was born.
Having started treatment for retinoblastoma – an eye cancer – as a six-month-old infant, Austin Young had to undergo examination under anesthesia (EUAs) and other optical treatments at a young age. 
"I fought retinoblastoma until I was 5 years old," Austin Young said. "From it, I lost pretty much all my sight in my left eye, and some in my right. Although I am categorized as legally blind, I can still see well enough to drive a car, ride ATVs, and do almost anything a normal person could do."
Even with all of his accomplishments, Austin Young's journey has not been an easy one by any means.
His mother, Bonnie Young, said her family had struggled to make life-changing decisions for him as a baby.
"The doctors wanted to remove both eyes because the tumors were so large in both," Bonnie Young said. "Would he have cancer now if we had? Maybe not, but he would have had lived without sight. It was too late for chemo so they gave him the largest dose of radiation possible, then laser treatments whenever a tumor grew for the first few years of life."
To make matters worse, Austin Young was hit with cancer again at the age of 17 – this time in his salivary glands classified as a rhabdomyosarcoma.
"I was diagnosed two years ago with rhabdomyosarcoma at the age of 17," Austin Young said. "At first it definitely was devastating, but the treatments have made a huge impact."
Austin Young is turning 20 soon and hoping to stay cancer-free. He plans on continuing his gaming charity efforts through "Gaming for a Cause" and donating to places like Family House in San Francisco and UC San Francisco for cancer research.
He and his family have donated most of their proceeds to Family House to update gaming consoles and entertainment systems for the children and families staying there. 
Now Austin Young is looking to extend those donations to universities for research that he says is currently insufficient.
"We are considering donating to cancer research starting at UCSF for rhabdomyosarcoma,the cancer I have been battling for the past two years," Austin Young said. "There are less than 200 cases of this cancer a year, and very little research is being done for improving cures."
At this point in his life, he said he hopes he can go on without cancer in his life permanently.
"As of now, the scans are completely clear of cancer," Austin Young said. "It has been a battle, but with chemo ending at the end of May, I'm looking forward to moving on."