Brooks shuts down Wildcats, Hornets rebound from 15-inning loss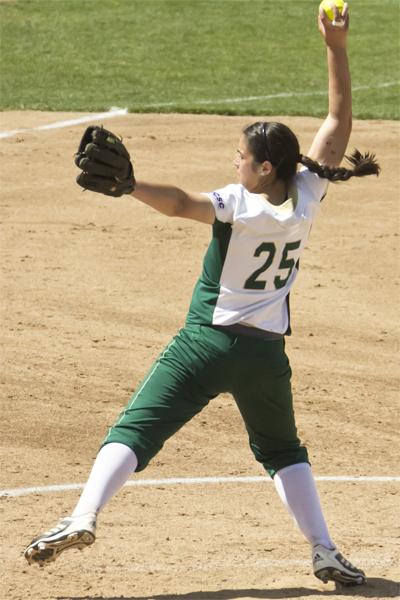 Sacramento State softball finished last night's marathon game Saturday losing to Weber State in 15 innings, 6-4 at Shea Stadium, but took the series, beating the Wildcats handily 7-0 in the final game. 
Sophomore pitcher Caitlin Brooks pitched with the lead the once again and allowed two hits, a walk and also striking out eight Weber State batters.
"It was cool to see my team perform well and produce for me," Brooks said. "I love playing relaxed instead of worrying about trying to keep my team in the game."
The 15-inning game from last night had no effect on the Hornets as Sac State jumped out early with the lead after the first inning. 
Hornet senior center fielder Kelli Frye hit her fourth triple of the season to start off the game and later scored on senior Emily McCormick's single to give Sac State a one-run lead. 
Sac State broke the game wide open in the third inning when it scored four runs that were started by sophomore first baseman Riley Price's RBI single.
"It was great to come out and play well in the third game because it lifted a huge weight off our shoulders," said sophomore left fielder Nicole Clark. "Everything came together for us." 
Sac State later scored three more runs off of Weber State's junior pitcher Kylee Colvin when sophomore catcher Paris Prado scored freshman designated hitter Kortney Solis giving the Hornets a three-run lead. 
Later in the fourth inning, Clark's double gave the Hornets a five run lead when she scored Price and freshman second baseman Kayla Papez. 
There were three Hornets that had a multi-hit game today, Frye, Solis and Clark. Each three Hornet batters all contributed to the runs being scored in today's game. 
In only her ninth start this season, Clark seemed to break out of a season-long struggle to put the bat on the ball. She finished today 2-3 with a stolen base and 2 RBIs, which raised her batting average to .222. 
"I have been trying hard to make some adjustments physically and mentally so today I tried something different in the batting cage," Clark said. "The adjustments I made helped me out today." 
Sac State was able to add on two more runs in the fifth and sixth innings that solidified the shutout.
Softball head coach Kathy Strahan said it was nice to see her team forget about last night's game and focus on today's. 
"The team had a chance to sleep on the game from last night and we were able to come out and perform well," Strahan said. 
Sac State will be on the road the next two weeks starting next Friday when the Hornets travel to North Dakota to play a three-game Big Sky Conference series.  
Clifton can be reached on Twitter at @jonesSHsports