Baseball drops another Friday game despite Higley's ninth home run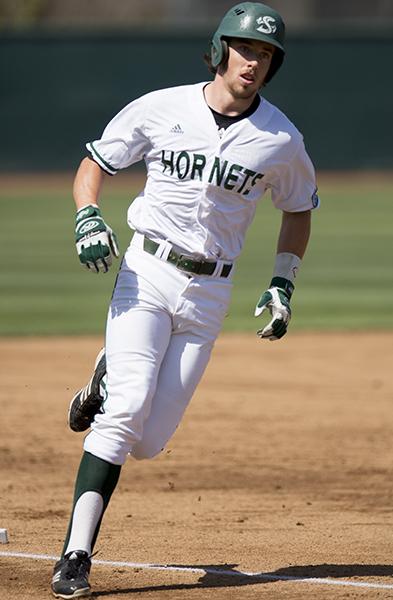 State Hornet Staff
April 27, 2013
Base running errors cost Sacramento State's baseball team another Friday afternoon loss, this time to Louisiana Tech University.
This season, the Hornets have won only two games on Friday and could not recover from a fourth inning rally by the Bulldogs, who held for a 5-4 win.
"We've had a hard time scoring runs on Fridays and we had a lot of mistakes today," said Hornets head coach Reggie Christiansen. 
Louisiana Tech came into the game sitting dead last in the Western Athletic Conference with a record of 14-28, but Christiansen said he doesn't talk to his team about any opponent different than the next. 
"Our guys know this is a very good team every year," Christiansen said. "They are where we were a few years ago, so we understand what they are going through."
Despite the loss, Christiansen was proud of his team's resiliency and persistence. 
"We played as badly as we could have and the score was still 5-4," Christiansen said. 
The Hornets took a very early lead in the bottom of the first inning when junior left fielder   Justin Higley crushed a two-run home run into right field.
"I knew he was going to throw me a fastball and I was ready for it," Higley said. 
Higley currently leads the team with nine home runs and is third with 26 RBIs, but has proven he can produce offense no matter where his coach bats him in the lineup. In the 41 games this season, he has batted in the first, second, fourth, fifth and sixth spots in the order. Only Will Soto and Chris Lewis have been changed more in the batting order.
"Wherever (Reggie) puts me I will be ready for it," Higley said.
Sophomore pitcher Ty Nichols took the mound for Sac State and pitched seven innings and finished giving up four runs on nine hits and striking out two batters. His only trouble came in the fourth inning when he gave up a bases-clearing double to Louisiana Tech's Sam Alvis.
The Hornets had chances from the sixth inning on as they left six runners on base. They could have scored on a sacrifice fly, but were caught in a double play resulting in freshman outfielder Nathan Lukes not tagging up at second base.
"He has been one of our better players, but he made a mistake like freshman do sometimes," Christiansen said. "I yelled (for him to get) back twice. I guess he thought the ball was down."
The Hornets return to John Smith Field Saturday for the second game of the three-game series with Brennan Leitao taking the mound. First pitch is at 1 p.m.
Ryan can be found on Twitter at @rskuhn