Sacramento State students donate blood to save lives, beat UC Davis and feel normal again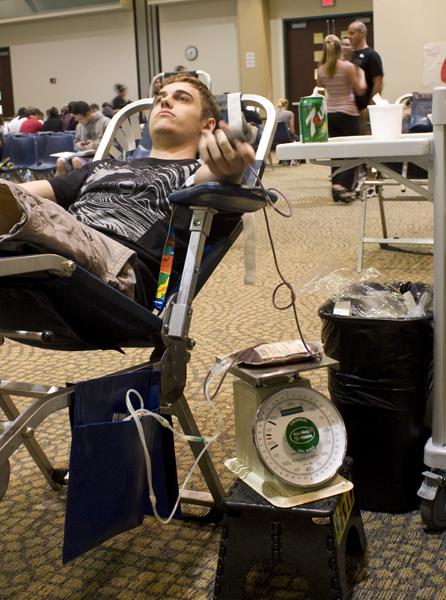 This week Sacramento State took a chunk out of the more than 44,000 blood donations needed every day during a blood and marrow drive.
On Tuesday and Wednesday 548 volunteers donated pints of blood or gave cheek swabs for bone marrow matching in the University Union.
According to Blood Source, the donations collected can be used to save an estimated 182 lives.
"One hour of your time could save up to three lives," said Ashley Rebholtz, account manager for Blood Source. Hundreds of students waited in long lines for their chance to donate.
While they all gave the same thing, their reasons for doing so differed.
Since blood drives between Sacramento State and UC Davis became a competition, many students donate to beat UC Davis.
"I graduated from Sac State and it is so humbling to come back and see students support such an important cause. It's also great that we beat UC Davis two years in a row," Rebholtz said. "To everyone who has ever participated in any blood drive – thank you. You're part of something really great."
Some students felt they had a responsibility to donate.
"This can save lives, why wouldn't I support the cause?" said senior marketing major Andrew Rutherford. "All students eligible to donate should get involved."
Others took pride in the number of times they had donated.
Junior sociology major Christine Dicker said this was her seventh time donating blood. She said by her eighth time she will have donated a full gallon.
"I always give blood. It's a good thing to do, and it helps save lives," Dickers said. "I really do enjoy giving blood, and it's a good example for my kids."
Still, others had a more personal reason for donating. "I was in a car accident last spring so I know the importance of giving blood," said senior English major Kayla Cole.
Cole was pined in her car and her legs were injured after another driver caused a nine car accident in parking garage II.
She said her accident could have been much worse, but due to the way her and her car were positioned, she landed in the back seat and her body was spared most of the impact.
While Cole didn't need a blood transfusion, a single car accident victim can require as many as 100 pints of blood, according to the American Red Cross.
"I have PTSD from the accident," Cole said. "I have regular flashbacks. This experience (giving blood) is not horrible, but it is a reminder."
When Cole donated, she had to fight the urge to pass out. As she cautiously sat up, a woozy Cole said reclining in the chair reminds her of being strapped to the stretcher when she was pulled from her car.
However, Cole said she is intent on giving again, and more than anything, using the experience as a way to cope with her accident.
"I hope [to donate again]," Cole said. "It kinda sucks. I'm open with the issues I have, It's not like I want pity. It's traumatic and scary, but I wanna tackle it and give again and not have the same reaction. That means I'll be getting over what happened to me and getting on with life."
"I think if people knew what the need is for blood donations, they would be more willing to help," Rebholtz said.
Rebholtz said a blood center needs to have about 700 pints daily in order to keep up with the demand for blood transfusions, but only 38 percent of people are eligible to give blood, and red blood cells only last 42 days.
"Because the blood has such a short shelf life, the drives we do (at Sac State) are a huge portion of our daily collection. The amount of students who come out to donate is pretty phenomenal," Rebholtz said.