Brooks pitches well despite 1-0 loss to Cal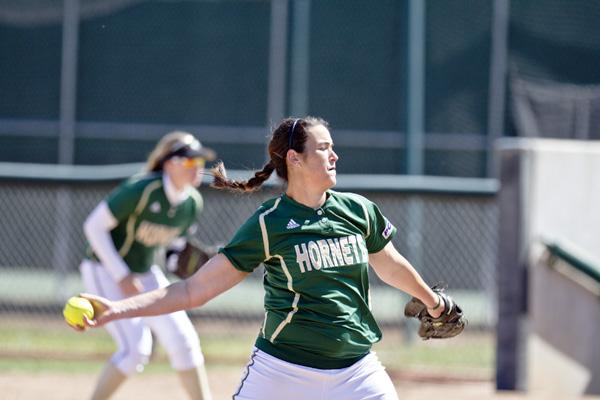 Sacramento State softball exceeded its attendance record, but fell to No. 5 UC Berkeley 1-0 in an intense pitching battle. 
Hornet sophomore pitcher Caitlin Brooks was able to pitch one of her best games of the season, but she couldn't keep the Bears off the scoreboard. 
Brooks lost a no-hitter in the top of the fifth inning when she allowed a solo home run to junior second baseman Victoria Jones.
"I was able to get Victoria on the rise ball before in a previous at-bat, but she adjusted well and was able to connect on my rise ball when she basically tomahawked the ball out of the park," Brooks said.
The Sac State sophomore was able to finish the game only allowing one run on two hits. 
"Brooks pitched well today against the No. 5 team in the nation," said head coach Kathy Strahan. "It was such a great game, it could have gone either way. Unfortunately, it didn't go our way."
Bears pitcher senior Jolene Henderson kept the Hornets lineup guessing throughout the game. Although she allowed two hits, she was able to strike out fifteen Hornet batters. 
Henderson struck out senior center fielder Kelli Frye three times.
"Jolene did a great job of changing her speeds and kept us off balance with her off speed pitches," Frye said.
Frye was able to play today despite injuring her ankle this past weekend against Northern Colorado. Frye said she really wanted to play through her sprained ligament and a tendon strain in her ankle because this was a big game for her team. 
"The injury to my ankle was not a factor in my at-bats," Frye said. "I just was not able to hit today."
The record breaking crowd of 1,212 people on hand for today's game overflowed into Parking Structure 1 next to the softball field. Even in front of the enormous crowd, the Hornets performed quite well today. 
"It was great to see the team play well even with the nerves of this game," Strahan said. 
Sac State will finish its home stand as it hosts a double header against the University of Nevada on Wednesday at 1 p.m.
Clifton can be reached on Twitter at @jonesSHsports