Tako Korean BBQ offers sweet Mexican food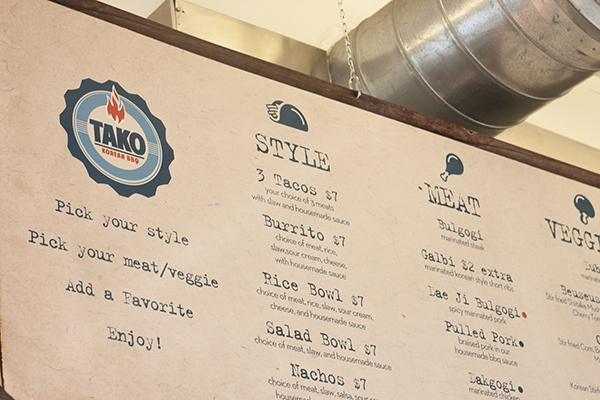 Tako Korean BBQ, a taco stand that serves Sacramento locals a hybrid of Korean barbecue and Mexican dishes, is creating a buzz with its take on Mexican food.
Located on the corner of Alhambra and T Street in midtown Sacramento, the former historical gas station that opened in July 2012 is reminiscent of a beachside restaurant with large windows and outdoor seating overlooking the street.
Owner and chef Alex Won said his roots in cooking are from his love of making barbecue.
Before opening Tako Korean BBQ, he owned a southern barbecue restaurant called Eunice 61 BBQ in Rancho Cordova, which closed down due to lack of business.
"A lot of people didn't give us a chance," Won said. "They saw Asian people running an African-American barbecue shop and they would leave. They would ask who the chef was and I was there and they would just get up and leave."
Fortunately for Won, he said he found success in Tako Korean BBQ.
Won said the Korean-Mexican cuisine was inspired by the food trend happening in Southern California where there are numerous taco stands that are mixed with Korean barbecue.
"We heard about the buzz in Los Angeles," Won said. "It started in Los Angeles and in Southern California – they had this kind of Mexican food and we decided, 'Okay, we'll give this a try.' Sure enough, as soon as we opened, we created a buzz and we're pretty busy."
Although some of the items are the typical taco stand fare, they are filled with ingredients found in Korean cuisine. Some of these ingredients include kimchee (Fermented spicy cabbage), bulgogi (marinated steak) and galbi (barbecue beef short ribs), Won said.
"We decided to stick to our roots and do Korean barbecue instead of American barbecue and it fits the image of Asian and we decided to add a twist with the Mexican food," Won said.
One of the popular items on the menu is the nachos, which are filled with slaw, a choice of barbecue meat, sour cream, cheese, tortilla and their homemade salsa.
Korean barbecue tends to have a sweeter taste due to the ingredients in the marinade, but the flavor of the meat served comes in waves with the smoky taste from the grill, followed by an underlying spiciness and ends with a pang of sweetness.
Despite the fact that the restaurant is centered on barbecue, Tako Korean BBQ also serves dishes that appeal to customers who are either vegetarian or have a gluten-free diet.
These dishes are Japchae – Korean stir-fry noodles with vegetables over rice – and Oksusu – stir-fried corn with bell peppers, cherry tomatoes, mangoes and sesame oil.
A new addition to the Tako Korean BBQ menu is the kimchi quesadilla. Made similarly to the traditional quesadilla, the dish is filled with kimchi and topped with dollop of sour cream and blue sauce, which consists of blueberries and yogurt.
Customer Nick Coibion, who's been to the restaurant eight times, said he heard of Tako Korean BBQ when his former EMT partner introduced him to the restaurant one day and since then has been eating there whenever he gets the chance.
"My first impression was 'That was amazing,'" Coibion said. "I've never had a pulled pork burrito ever. It's different and it's the only thing I've ever tried here and it's the only thing I'll ever have here. It's that good."
Coibion said what he likes the most about Tako Korean BBQ is how delicious the food is there every time he stops by.
"The food here is really consistent," Coibion said. "You know how (at) some places the food is good one day and then not so good the next? This place is consistent. One time, all the time."
Tako Korean BBQ stands out as a restaurant because of its atmosphere and its dishes. Won said pairing Korean barbecue and Mexican food helps him stick to his origins.
Tako Korean BBQ is located at 3030 T St. in midtown Sacramento. Its hours are  from 10:30 a.m. to 10 p.m seven days a week. For more information, visit www.sactako.com.
Camille Anglo can be reached at [email protected]