Spice up your life with Mexican-infused samosas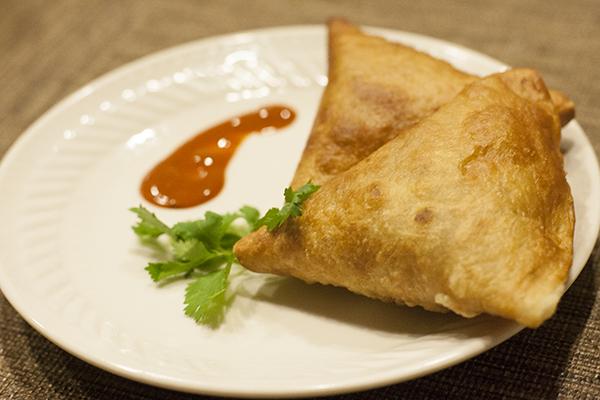 In "Life of Pi," a young boy grows up in India, exploring many facets of life such as love, religion and culture.
Food plays a big role in understanding someone else's culture and sharing recipes is a way of exploring the different facets of life for other cultures.
I had never heard of samosas until a year ago when Parm, a friend of my mom's, came over one day and showed my mom how to make samosas from scratch, using spices she brought from home.
Biting into these fried delights sent a wave of Middle Eastern flavor in my mouth. It was the first time I tasted spices like cumin, coriander and curry.
My mom and I immediately began playing with the ingredients, figuring out how to add our own Mexican infusion to this traditional Indian appetizer. We could see the parallels between this Indian dish and staple ingredients in our own Mexican cooking; it already had cilantro, jalapeño and was made with flour tortillas.
We had to come up with a way to personalize the recipe and make it our own. Naturally, we added soyrizo—a healthy, meatless take on chorizo. Mexican chorizo is made with pork sausage and chili peppers, which give it a deep red color. However, I gave up red meat a few years ago, so we opted for the meatless, yet still spicy alternative. Samosas are also traditionally vegetarian and made of vegetables and spices.
It took us a few trials to get here but I think my mom and I finally found the right amount of each spice and soyrizo to call this recipe our own.
This recipe is adapted from our friend Parm Phagura's samosa recipe.
Mexican-infused Samosas
3 medium – sized potatoes
1 carrot
¼ cup white onion, finely chopped
1 tablespoon fresh ginger, finely chopped
1 garlic clove, finely chopped
½ teaspoon whole cumin
6 cilantro stems, chopped
¼ teaspoon curry powder
¼ teaspoon ground coriander seed
½ teaspoon salt
1/3 cup sweet peas, frozen
¼ cup soyrizo (meat-free chorizo)
1 teaspoon jalapeño, finely chopped (optional)
5 soft taco flour tortillas
1 cup canola oil
3 tablespoons flour
3 tablespoons water
Wash and peel the carrots and potatoes. Cut the potatoes into quarters and slice the carrots to ½-inch sized pieces and boil in a saucepan for about 12 minutes over medium heat. When done, drain the vegetables, put them in a large mixing bowl and set aside.
Boil peas in a small saucepan on medium heat for five minutes. Drain and set them aside.
In a large pan, add about two tablespoons of oil and add the onions, ginger and garlic. Cook over medium heat until onions become translucent. In the same pan, move the contents to one side and toast the cumin seeds until they brown—about one minute.
Remove the onions, ginger, garlic and cumin seeds from the pan and place them in the mixing bowl with the potatoes and carrots.
Add another tablespoon of oil to the same pan and add the soyrizo, stirring constantly for about five minutes over medium heat. Remove pan from heat.
Add the soyrizo, cilantro, curry and coriander to the mixing bowl and mash all the ingredients together until thoroughly mixed. Add the peas carefully so they don't mash. For some spiciness, add a jalapeño.
To assemble the samosas, mix the flour and water in a small bowl until you get a paste-like consistency.
Warm up the tortillas in the microwave for about 10 seconds each, until they become pliable. Cut them in halves and keep them covered with a towel so they stay warm while you prepare the samosas.
Meanwhile, add the oil to a small saucepan over medium-high heat.
To check the temperature of the oil, insert a wooden spoon in the saucepan. If oil begins to bubble, it's ready for frying.
To assemble, grab one tortilla half and fold over one-third of the way so the folded piece looks like a triangle. Use the flour paste to fold over the other third so it sticks and the tortilla halve forms a cone shape. With a spoon, fill the potato mixture two-thirds of the way full, leaving room at the top to pinch the cone shape closed using the flour paste.
Fry the samosas – one at a time – turning constantly until they are golden brown. This should take no more than 45 seconds per samosa.
Once all samosas are fried, serve immediately.
I don't think Parm knew we'd interpret her recipe the way that we did. We just loved her samosas so much, we wanted to make them our own and adding a bit of Mexican flair was the way to do it.
Sometimes tradition can create beautiful connections between people of the same culture and sometimes, we have to create our own tradition in ways that connect us with people from other cultures all while infusing part of our own.
Cristina Lule can be reached at [email protected]