Women's basketball Kylie Kuhns balances work and play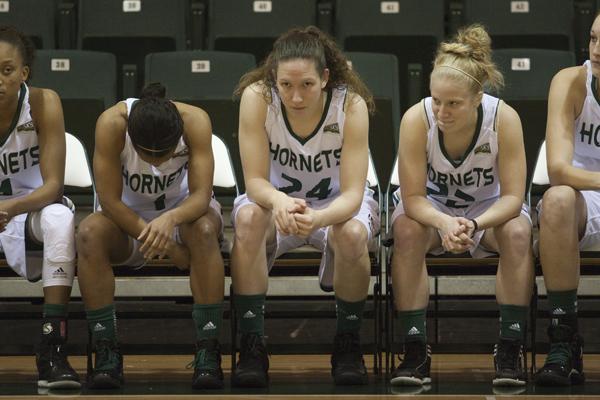 State Hornet Staff
January 29, 2013
Sacramento State senior forward Kylie Kuhns helps out any way she can on the basketball court.
Whether grabbing rebounds under the basket, blocking shots or picking the pocket of the opposing team, Kuhns' presence this season has never been overlooked.
"It's a very dirty game in the post and because I'm smaller I have to scrap that much harder," Kuhns said. "That's why ever since I was younger I've played hard to get those rebounds."
Now, in her final season as a Hornet, the hard work and effort she put in for four seasons has paid off as she holds the school's all-time rebounding and steals records and is currently fifth in points scored. She is also on pace this season to break the Big Sky Conference rebounding record.
But Kuhns said she looks beyond that. For her, it is not about personal accolades.
"I won't have anything if I don't accomplish a championship or do something that has never been done before," Kuhns said.  "Otherwise, I'm just another name."
Though basketball has been a main focus in her life since she started playing in middle school, Kuhns has chosen a different path for herself once she leaves Sac State. Her ambition is to become a lawyer.
Although she said she will miss the game, she said she has no regrets from ending her basketball career by wearing green and gold.
"My big thing is, I really enjoy helping people," Kuhns said. "My dad is a defense attorney and he shows me that you can help people during their darkest time. That's something I want to do and pride myself with."
Kuhns has shown her entire basketball career that she has a competitive side and she knows it will carry with her into law school.
"She enjoys competing in everything she becomes involved with," said her father David, who has practiced law for 26 years. "I wasn't surprised when she told me she wanted to get into law."
Kuhns became interested in basketball at a young age because the game was a part of family life. Her father played in high school and coached her in middle school while her older brother Travis also played in high school and college.
 She watched basketball growing up, but was lucky enough to have her favorite player at the dinner table with her. 
"Travis is four years older than me so I got to watch him play and I idolized him," Kuhns said. "I'm his biggest fan."
As Kuhns entered high school she became more defensive-minded on the court, a style that was completely different than her brother's. This personal style would lead her to an opportunity to play Division I basketball, despite being undersized for a power forward.
If anyone has seen a Sac State women's basketball game this season, they would know it is not in a traditional style. Head coach Jamie Craighead is in her fourth year and said she would describe her coaching strategy as "40 minutes of fast-break offense and full-court pressure defense."
As luck would have it, that style is a perfect fit for Kuhns because of her speed and ability to get to the basket.
"Just because you are tall doesn't mean you shouldn't dribble and shouldn't pass," David Kuhns said. "We've always taken the position that you should develop all parts of your game to help your team out."
But the road would not be smooth once Kuhns got to Sac State. In her sophomore season, the team won only four games, but she said she never doubted her decision to move to Sacramento.
"I know this is the best place for me and I knew I was here for a reason," Kuhns said. "It was frustrating because we had the talent, but we didn't have the leadership. All the pieces weren't put together."
Kuhns' junior season changed for the better as she averaged 13.6 points per game and 11.6 rebounds, helping the Hornets win their final four conference games and knock off Eastern Washington in the quarterfinals of the Big Sky Tournament.
"Coming from a high school program that wasn't successful, I didn't get the chance to experience a championship, so I want to leave with a Big Sky Conference title or do something that this school has never done," Kuhns said.
Now with 11 games left this year, Kuhns' time on the court may be coming to an end, but her legacy will never leave the record books.
Whether carrying a basketball or a law book, her outlook on life never changes.
"I try to be contagious in my work ethic," Kuhns said. "I try to work hard at everything I do."
Ryan Kuhn can be reached on Twitter at @rskuhn