Hornets find a way to win without star point guard in lineup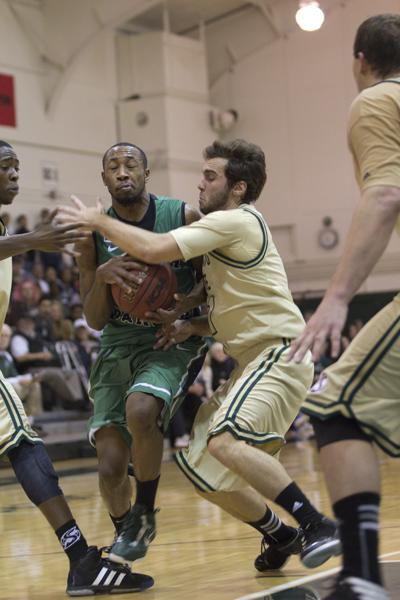 State Hornet Staff
January 25, 2013
Sacramento State men's basketball coach Brian Katz received some news just minutes before tipoff that no coach wants to hear: his star point guard, Dylan Garrity, would be unable to play because of a back injury.
Despite Garrity's absence in the lineup, the team rallied from a 12-point deficit in the first half on Thursday to defeat North Dakota, 67-58 at The Nest.
"I can't ever remember being more proud of a team on any level than this," Katz said. "You need to win, you don't have your best player, it all goes bad, but then find a way to win. It was a gutsy performance."
Garrity came into the game ranked No. 1 in the Big Sky in assists, but back-up senior point guard Julian Demalleville stepped in with five assists while not committing a single turnover. 
The Hornets struggled shooting the ball in the first half and soon found themselves trailing 24-12 with nine minutes left until halftime. 
Katz took his second timeout of the half to calm his players down. 
"I told them they were fine and don't let (North Dakota) score," Katz said. "We'll figure out a way to score and we did." 
Sac State responded with a pair of 3-pointers from junior Joey Quigley and freshman Dreon Barlett, cutting North Dakota's lead to six points. 
North Dakota would not score for the remaining seven minutes of the first half and watched the Hornets tie the game when senior forward John Dickson hit a jump shot from the corner to end the first half. 
"We went on a little ride to end the half and that really got us going," Dickson said. 
Dickson finished the game with his second double-double of the season with 11 points and 12 rebounds.
In the second half, the Hornets pulled away led by senior forward Joe Eberhard with 10 points. He finished with a season-high 15 points along with five rebounds. 
Eberhard's offensive production has been down from last season, but as conference play continues, he knows what he needs to do.
"Coach has been getting on me about taking some chances on the court and making things happen," Eberhard said. "He wanted me to be aggressive and that's what I did."
The Hornets eventually extended the lead to 42-32 with 10 minutes left in the game and responded to every run North Dakota put together. 
"We know that we weren't playing as well as we can during the road losses, so this win was big," Eberhard said. "Five of our next six games are at home, so that is going to help because we were beat down from the road trip."
The Hornets return to The Nest Saturday to play Northern Colorado and Garrity's return to the court is questionable.
"We will prepare as if he cannot play this Saturday," Katz said. "He has a back spasm, so he could wake up tomorrow and he could be fine. You always have to play it as if it's the worst-case scenario."
If Garrity does not play, Demalleville will play again in his place. Tipoff is at 7 p.m.
Follow Ryan on Twitter @rskuhn and for live game updates follow State Hornet Sports @sh_sports