Students host bake sale in memory of communication studies professor Nick Trujillo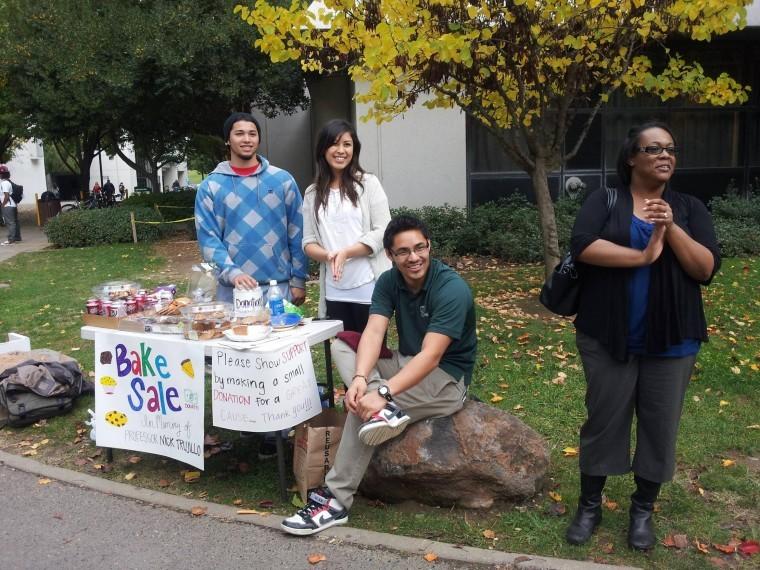 Sacramento State students in the Small Group Communications class hosted a bake sale in memory of the late communication studies professor, Nick Trujillo, outside Mendocino Hall Monday.
The group sold baked goods in order to get a plaque for Trujillo and his late wife, former communication studies professor, Leah Vande Berg in the communications department. The group, who held the bake sale since 10 a.m., raised about $350 by the 3 p.m.
Deaf studies senior and group member Erica West-Oyedele said the bake sale was the major group project for the class and they changed their plans when they heard about the passing of Professor Trujillo.
"Once we found out about his passing, we decided to change our project so that we can get a plaque that's going to be displayed in the communications department with his name and the name of his wife," West-Oyedele said. "Whatever other funds we receive will go towards the scholarship fund that is already in his wife's name and they're going to be adding his name to that scholarship as well."
Group member and communication studies senior Josh Gonzalez said despite the fact they changed their plans, they are still aiming to raise money for the scholarship.
"We were trying to get an international scholarship for students to study abroad and we were already leaning towards the scholarship thing and when he passed, it fueled (us to keep going)," Gonzalez said.
Social work senior and classmate of the group William Butler said he donated $101 to the group because it was for a good cause.
"I'm a social worker," Butler said. "I have empathy and I like to help. This is a good thing."
Butler said although Professor Trujillo's passing was sad, he's grateful to have taken his class.
"He was a great teacher," Butler said. "I'm glad that I had an opportunity to have him as my teacher. It's sad and I understand that now, he is with his wife."
Camille Anglo can be reached at [email protected]