Runners brace for cold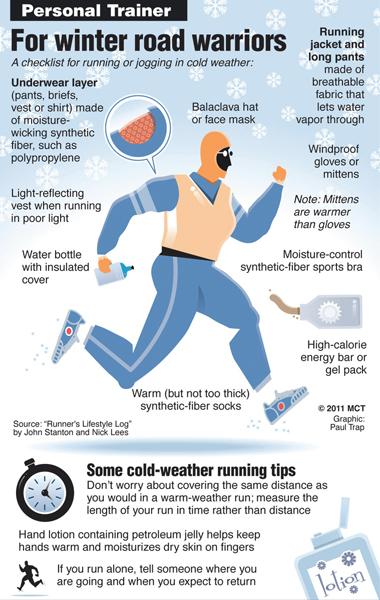 During the winter months, sporting events can face unexpected scheduling issues, facing either suspensions of games or canceling of games altogether.
Many sports have the luxury of being played indoors on dry surfaces and ideal environments.
While track and field meets are held indoors, as well as outdoors, running at its core is essentially an all-weather sport.
"Our distance runners compete year-round," Sacramento State cross country head coach Scott Abbott said. "That doesn't give us a lot of time to let our guards down. We have to go right back to work. It is a long grind."
Not including severe weather, such as lightning or flooding, running is an activity that can be performed in several conditions – heat, wind, rain, snow.
Depending on the season, a runner must prepare for the elements he or she will face out on the run.
In warmer weather, runners tend to head out early in the morning because the temperatures are much cooler. Heat and humidity can greatly increase the difficulty of a run and even affect the health of runners.
When running in the heat, runners face the risk of becoming dehydrated, suffering cramps and even suffering a heatstroke. But with winter and cooler weather around the corner, runners are preparing for a different climate.
Over the years, Abbott said he has found that many of the injuries to cross country and track and field athletes occur in January. Abbott said the increased injuries could be due to the cold weather, but also could be attributed to the process of working too hard, too soon to get back into shape for the track and field season.
"The season is track-focused," Abbott said. "They will be on the track a little more. For the most part, it is a lot of running. The offseason running is about getting our bodies tuned and back on track."
One of the benefits of cooler temperatures is the option to run at any time throughout the day. Granted, running early in the morning or at night would be cooler than running during the middle of the day.
If running in the morning or at night, runners should prepare for the colder temperatures by dressing warmly. Gloves, shoes with minimal mesh, insulated long spandex and jackets should provide enough warmth to get through the run.
"During the offseason we continue training on our own," freshman Chloe Berlioux said. "It is much lighter than the amount of work we do during season but still critical to bettering ourselves as runners. Offseason is also a time to give our bodies a rest by breaking up training into lighter workouts including things like cross training and core (work)."
It is also important to properly warm up before a run, as muscles will tend to be tighter in colder weather.
"Training really does not change," Berlioux said. "Just make sure you bring an extra jacket."
Junior Reesey Byers said he does not prefer warmer weather over cooler weather, and in fact said the cooler weather allows for more flexibility in his training.
Over the offseason, Byers said he plans on building a strong base and getting in a lot of easy runs.
Byers said he is heading back home to Santa Rosa for the winter break where he will continue to train on his own. Throughout December and January, Byers said he plans on running 90-mile weeks.
"I kind of just like to get (running) done in the morning," Byers said. "I will have the rest of the day to do whatever. I am excited to get back into running and being consistent."
James Heck can be reached at [email protected]