Red velvet cupcakes your sweetie will love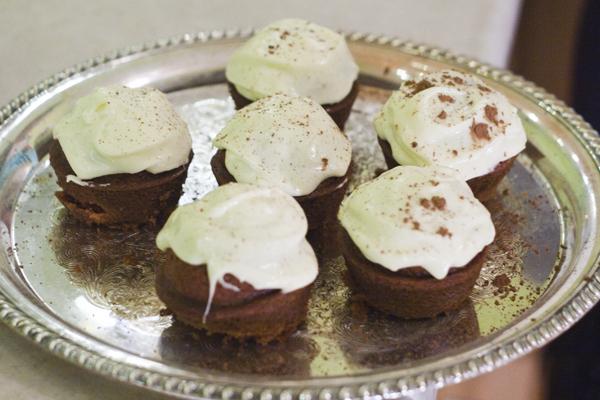 Camille Anglo and Kaitlin Bruce
November 28, 2012
Due to the popularity of cupcakes, there are many cupcake stores that sell red velvet cupcakes. The popular Sprinkles Cupcakes charge $3.50 for one cupcake and $39 for a dozen.
With cupcakes this good, buying them at $39 a dozen will definitely add up. The best way to save money is baking them yourself. Many of the basic ingredients, such as eggs, flour and sugar, can be found at home and making a batch of 24 cupcakes can cost about $10.
Now that the ingredients are taken care of, here are some tips to successfully baking red velvet cupcakes.
Don't worry about the amount of food coloring in the cupcake. If you run out of red food coloring, it's not the end of the world – just resist adding other colors to try to bring out the red. It will definitely result in off-red velvet cupcakes.
Since these cupcakes are irresistibly tasty for their combination of sweet and sour, making these cupcakes require patience, especially during the baking and prefrosting cooling process. It's important to wait for your cupcakes to cool because piling frosting on a warm cupcake results in a thin and deformed mess on your cupcake. Thin, gooey frosting on your cake will be a far cry from the cute image of a cupcake with mile-high frosting, so be patient.
Although baking can be seen as a concentrated and relaxing activity on your own, it's also fun to work on the cupcakes with a fun person or two.
Not only will you be eating delicious cupcakes, but you'll always remember the fun time you had baking them.
Red Velvet Cupcakes
2 1/2 cups all-purpose flour
1 1/2 cups sugar
1 teaspoon baking soda
1 teaspoon salt
1 teaspoon cocoa powder
1 1/2 cups vegetable oil
1 cup buttermilk, room temperature
2 large eggs, room temperature
2 tablespoons red food coloring
1 teaspoon white distilled vinegar
1 teaspoon vanilla extract
Cream Cheese Frosting
1 pound cream cheese, softened
2 sticks butter, softened
1 teaspoon vanilla extract
4 cups powdered sugar
Preheat oven to 350 degrees, and prepare two muffin tins with paper cups or by oiling them with butter.
In a medium mixing bowl, sift together the flour, sugar, baking soda, salt and cocoa powder. In a large bowl gently beat together the oil, buttermilk, eggs, food coloring, vinegar and vanilla with a handheld electric mixer. Add the dry ingredients to the wet ingredients and mix until smooth.
Divide the batter evenly among the cupcake tins and add batter until each cup is 2/3 filled. Bake about 20 minutes or until done. To test how cooked your cupcakes are, stick a toothpick through the cake – if it comes out clean, they are finished. Let cool completely before adding frosting.
For the Cream Cheese Frosting:
In a large mixing bowl, mix the cream cheese, butter and vanilla together until smooth
Add the sugar and on low speed, and when fully mixed increase the speed to high and mix until very light and fluffy. Add the finished product to your cupcakes and you're ready for a feast of velvety treats.
Camille Anglo can be reached at [email protected] and Kaitlin Bruce can be reached at [email protected]