Men's basketball takes loss as Dickson claims 1,000th point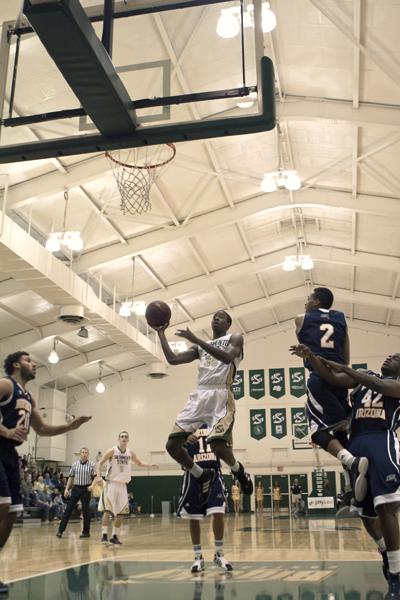 An opportunity to start 4-0 for the first time in 13 seasons slipped away from the Sacramento State men's basketball team (3-1) when it fell to UC Davis (1-2) tonight.
In the 111th meeting between the two teams, the Aggies outlasted the Hornets to take home the victory at The Nest 87-76.
"Give (UC Davis) credit," said head coach Brian Katz. "They came in here, played well, had an aggressive attitude and a nice gameplan."
The Hornets started the game off strong behind a solid first-half performance from senior forward John Dickson.
Dickson scored the first three Sac State baskets. He was solid on both ends of the floor with 11 points, three blocks and a steal in the opening half. Dickson would finish with 18 points and six steals.
Going into halftime, Sac State had a 9-point lead and was able to keep the Aggies' biggest scoring threat Corey Hawkins in check.
The second half was not so kind to the Hornets. The Aggies went on a 10-2 run to start the half, which eventually stretched into a 26-5 run – giving UC Davis a 50-38 lead. Hawkins led the run after being held to just six points in the first half and exploding for 23 in the second.
Hawkins finished with 29 points for the game.
The Aggies led by as many as 12 before Sac State cut the lead to five after a 3-pointer by true freshman Cody Demps and free throws from Dixon and Dylan Garrity, but Sac State could not keep up as Davis continued to attack in the final minutes of the game.
Guard Mikh McKinney scored the 13 points, but was only 4-13 shooting on the night.
"The film is out on me so a lot of teams know I'm going to try to get around them and drive," McKinney said. "I feel like I could have utilized my jump shot a little bit more."
The Hornets missed open shots, layups and gave up second-chance points on defense, which ultimately led to a defeat.
"All the missed buckets in the beginning add up in the end," Garrity said.
Even with the loss, Garrity had a productive game offensively. He shot 60 percent from the field and was the team's leading scorer with 22 points. Once again, Garrity was perfect from the line going 8-8.
Tonight the Hornets took a rough loss, but Dickson was able to score his 1000th point. This feat has only been accomplished by nine other players in school history.
Sac State will hope to rebound from this loss on Saturday as the team travels to take on Central Arkansas.
The Hornets will return home Nov. 27 to host Dominican.
Joe Davis can be reached on twitter @famousjoe530.