Hornet football maintains winning mindset for Saturday's face-off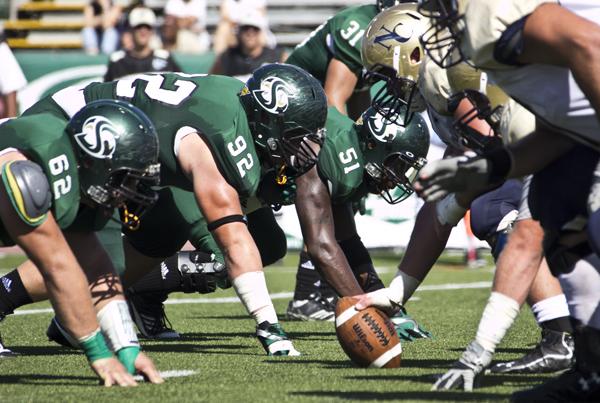 State Hornet Staff
November 1, 2012
If something is successful, then why tinker with it?
Just three days fresh off their win against No. 11 Cal Poly, the Hornets were preparing the same way they have been preparing since before the season even started.
Sacramento State will face No. 3 Montana State this Saturday, but the Bobcats' highly ranked defense does not phase Hornets' head coach Marshall Sperbeck.
"We just try to take the same approach as in week one," Sperbeck said. "Consistency is good to have going into each week and they understand every opponent we have had has helped us prepare for the next week."
The Bobcats have allowed their opponents to score less than 20 points on four separate occasions this season and currently stand first in the Big Sky Conference in total defense. This season Montana State has also allowed only 63.9 rushing yards per game.
Despite the fact the Bobcats are seeded in the top six teams in the nation in total defense, Sac State quarterback Garrett Safron said he is not intimidated.
"We have the mentality we can play with anybody and we have shown that throughout the season," Safron said. "We just need to go out there, play some plays and execute."
Safron has quietly done well this season, throwing for more than 1,900 yards, 18 touchdowns and only getting intercepted eight times. Last week he was also named the ROOT Sports Big Sky Conference co-Offensive Player of the Week.
While the Hornets try to push towards the school's first-ever postseason appearance, each game could be a factor whether or not they get invited to the 20-team playoff.
Safron has been in a playoff hunt before. During his senior year at Santa Monica High School, his team needed to beat their rival Beverly Hills High School for a chance to make the playoffs.
"It was a pretty big game," Safron said. "We beat them on a last second touchdown. Hopefully we can get a break like that on Saturday."
Not only has Montana State been successful defensively, but they can also score.
Last week against North Dakota, the Bobcats scored a season high 55 points and saw the return of their leading running back Cody Kirk, who sat out the last two weeks with an injury. During that game, Montana State set a pair of school records with 695 yards of offense and 49 first downs.
Sac State senior tight end T. J. Knowles said his team has dealt with pressure all season.
"During the last few weeks there have been some high-pressure games," Knowles said. "We don't want to put too much pressure on ourselves, we just want to handle like we have been each week."
Knowles and 12 other seniors will be honored Saturday as they play in their last home game as Hornets. Kick off will be at 4:05 p.m.
Ryan Kuhn can be reached at @rskuhn