Football ends season with a loss to Davis in Causeway rivalry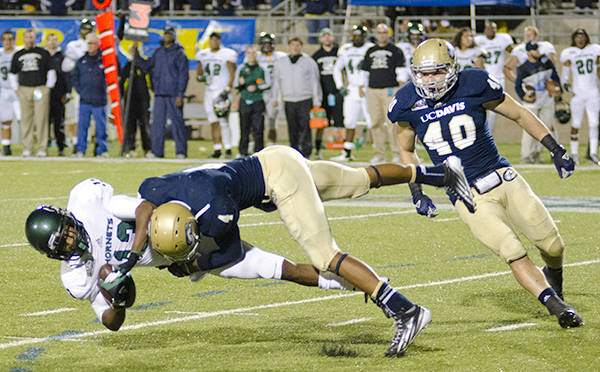 State Hornet Staff
November 17, 2012
DAVIS – No one is favored in a rivalry game.
Although Sacramento State came in on the cusp of its first 7-win season since 1992 and even had a chance to make the postseason, the Hornets fell to UC Davis in the 59th annual Causeway Classic 34-27 on Nov. 17.
This makes it three seasons in a row the Aggies have won.
"They played better than we did and they deserved to win," said Sac State head coach Marshall Sperbeck. "We had opportunities, but we had mistakes that hurt us."
Turnovers have hurt the Hornets during their last two games, causing them to give up six turnovers. Against Davis, the struggles continued.
The Hornets took the lead on a 1-yard touchdown run with 4:55 left in the first quarter, but the momentum swung Davis' way as it recovered a fumble in the end zone that was misplayed by wide receiver Morris Norrise.
"I just dropped it and misjudged the bounce," Norrise said. "I was ready for it, but I didn't make the play."
Momentum was shifted toward Sac State for a moment with less than two minutes left in the first half. Quarterback Garrett Safron led the offensive 75 yards down the field on six plays to throw a touchdown pass to DJ Maciel, but an 81-yard Davis kickoff return gave the Aggies a 23-13 halftime lead.
On the opening drive of the second half, Safron once again drove 75 yards that ended with a touchdown catch, this time from wide receiver Shane Harrison.
Sac State fought back to regain the lead with 13:35 left in the game when running back Ezekiel Graham pushed for a 2-yard touchdown run. Graham finished the game rushing for 108 yards.
"I thought we came back in the second half and played well," Sperbeck said. "It gave us a shot to win."
Missed opportunities, including a missed 40-yard field goal by Edgar Castaneda and three interceptions, ended up holding Sac State back.
Although Sac State has not been known for many trick plays this season, the Hornets coaching staff called a double reverse pass by Norrise to Safron, but it was intercepted in the end zone.
The interception led to a Davis touchdown that would eventually decide the game.
"I was too caught up in the game and should have made a smarter decision," Norrise said. "I made a mistake and I wish I could have it back."
The play was introduced last week during the team's week off and was implemented because Norrise said his coaches knew he could throw the ball.
The Hornets were given one final chance to tie the game with 3:20 left, but Safron threw his second interception of the game right into the hands of Davis senior linebacker Jordan Glass.
Although Sac State's slim chance to make the playoffs ended in Davis, the seniors look back on the season with memories they will keep for a lifetime.
"I'm disappointed it's over, but I believe I played this game the way it was supposed to be played," said senior defensive back Ryan McMahon. "I played it with my heart."
Sac State finished the season 6-5 (4-4) and had its second winning season in three years.
Ryan Kuhn can be reached on twitter @rskuhn