Cross country has strong showing in Davis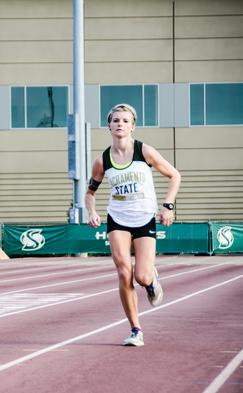 The Sacramento State men's cross country team finished second and the women's team finished first today at the Doc Adams Invitational at the Putah Creek Reserve course in Davis.
Junior Reesey Byers led the men's team with a third place overall finish in the 8k with 24:08.
On the women's side, Justine Rea finished first for the Hornets and third overall in the 6k course with a time of 21:05.
The Hornets' next race is Friday at the NCAA West Regional in Seattle.
Hornet women:
• Justine Rea, third with 21:05
• Teresa Mallory, 11th with 21:52
• Amanda Garcia, 12th with 21:56
• Emily Johnston, 16th with 22:10
• Ashley Chavez, 36th with 23:02
• McKenzie Paul, 44th with 23:24
• Adrianna Royal, 46th with 23:41
• Madison Cline, 48th with 23:54
Hornet men: 
• Reesey Byers, third with 24:08
• Benny Willers, 16th with 25:19
• Domenic D'Acquisto, 18th with 25:24
• Cole Younger, 19th with 25:24
• Kyle Lackner, 20th with 25:24
• Daniel Mitchell, 25th with 25:34
• Mark Frazier, 39th with 25:47
• Mac Harvey, 41st with 25:58
• Luke Frazier, 65th with 27:11
James Heck can be reached at [email protected]