Aggies put an end to men's soccer season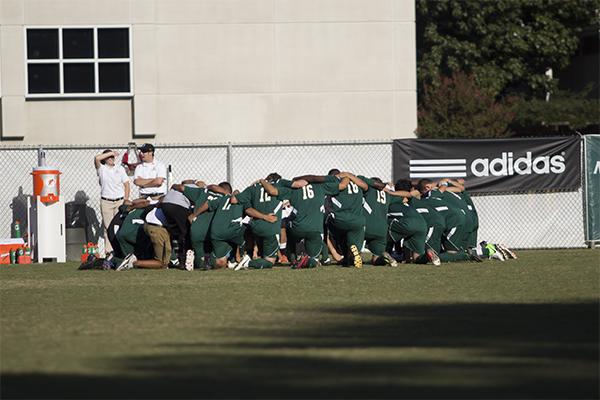 The Sacramento State men's soccer team lost today 2-1 to Big West Conference opponent UC Davis at Aggie Field.
The Hornets (8-8-2, 5-4-1 Big West) headed into the game tied with Cal Poly (11-6-1, 6-3-1 Big West) in the Big West with 16 points. Sac State's loss to Davis resulted in zero points, and Cal Poly's victory against UC Santa Barbara earned three points, which put an end to the Hornets' season and will exclude them from the Big West Tournament.
The game got off to a quick start with an Aggie score. In the eighth minute, Aggie Alex Aguiar chipped a pass deep into the Hornets' defense where Matt Wiesenfarth connected on a header into the top right corner of the goal.
The Aggies looked to take their lead into halftime, but a Hornet goal with roughly 30 seconds remaining tied the game 1-1. Freshman defender Adam Rodriguez stole the ball from the Aggies and passed it to senior midfielder Chris Sandoval who dribbled past a defender and sent a strike to the bottom right corner of the goal.
"I feel we played well today," said Hornet forward Chimdum Mez. "It was a great environment to play in, especially against the cross town rivals. Everybody came out to play."
The rival game produced a season-high 1,349 fans at Aggie Field.
The Hornets ended the first half strong, but opened the second half allowing a goal in the 46th minute. Wiesenfarth back-heeled the ball into the lower right corner of the net past Hornet goalkeeper Bryan Oliver, sending the game to a final score of 2-1.
"I think we had a lot of energy and we possessed the ball quite well throughout the whole game," Mez said.
The Aggies totaled 14 shots while the Hornets totaled 10. The Aggies also had six corner kicks throughout the game compared to the Hornets' one.
Oliver was credited with four saves throughout the game. Aggie goalkeeper Omar Zeenni had two saves.
Only the top two teams from the North and South divisions advance to the Big West Tournament. In the North Division, UC Davis (9-6-4, 7-3-0 Big West) is the first seeded and Cal Poly is the second.
James Heck can be reached at [email protected]