Women's soccer strives for rebound performance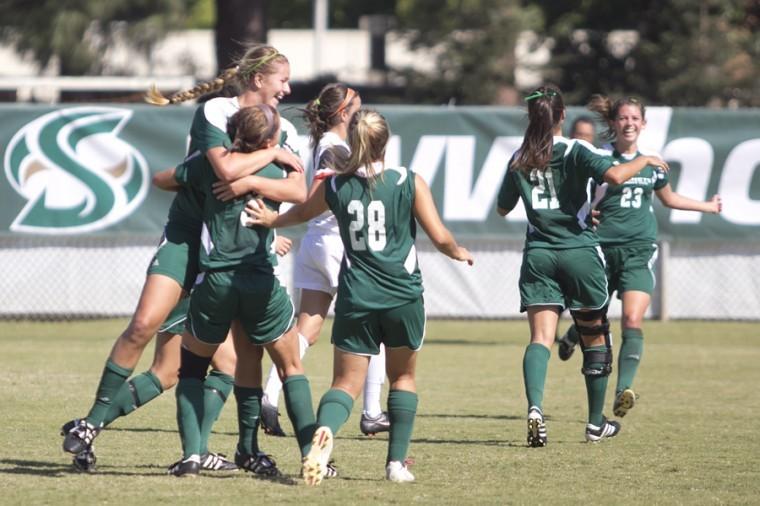 State Hornet Staff
October 16, 2012
The Sacramento State women's soccer team started out the 2012 season in a slump, and even with more production during Big Sky Conference play, the team's fate will come down to the end. 
The Hornets (5-7-4, 3-3-2 Big Sky) opened the season with a win against Nevada on Aug. 19, but followed it with a three-game losing streak against non-conference opponents Cal Poly, USF and UNLV.
Head coach Randy Dedini said it has been a gradual process determining what each player brings to the field, but the team has been improving each week since the season started. 
"I think gradually we have been building and getting better every week," Dedini said. "It is consistent improvement. The whole goal is to be peaking at the right time, which is playoff time."
During non-conference play the Hornets lost four games, tied two, and won two. However, since the schedule switched to conference play, the Hornets have only lost three games while tying two and winning three. 
The area the team needs to focus on is finishing games, and the way to work on that is replicating those situations in practice and correcting them, Dedini said. 
"With the amount of shots we have put on goal, we need to score," Dedini said. "I think looking at the opportunities we have had, we are not capitalizing on them."
Sac State is outshooting its opponents 248-213, including against conference opponents. 
Senior forward Elece McBride said she also has noticed the team's development throughout the year, especially during the conference games.
"I think we are performing well and feeling great," McBride said. "We are all very close and are enjoying playing together. Once we start finishing a bit more and putting more balls in the net I think we will definitely be on our way to a championship."
McBride leads the team in shots with 47, has scored three goals, and is credited with eight points in the season.
"It would be great to score some more goals this year, but as long as I am contributing to the team in some way I am very happy," McBride said.
Continuing the theme of improvement, senior goalkeeper Shelby Tomasello said the defense as a whole was struggling earlier on in the season, but has recently started to find its footing.
The defense has three shutouts under its belt against conference opponents, but has allowed eight points throughout those eight games.
Still, Tomasello said the team has been playing better than its record shows, it just needs to capitalize on its opportunities.
"It is more frustrating now that we are not winning games that I know we can," Tomasello said. "We just need to be able to finish our chances. You cannot win a game unless you score goals."
Tomasello has split goalkeeper time with sophomore Kimberly Mata. Mata is 2-2-0 as a starter and has recorded one shutout with 18 saves and a .720 save percentage.
Tomasello is 3-5-4 as a starter and has recorded five shutouts in the season, with 64 saves and a .810 save percentage.
Tomasello said it is good the defense can shut other teams out, but it is also frustrating the team falls short of capitalizing on scoring opportunities.
"Personally, I think I just need to stay focused and aware of the players on the field during the game and communicate with the backline more," Tomasello said. "It starts with me talking and telling them where their marks are, who the dangerous forwards are that we need to be aware of and what runs they need to be prepared for."
The Hornets are currently tied for sixth with Northern Arizona with 11 points in the Big Sky with three conference wins. Portland State is in first place with a 5-2-1 conference record.
"Everyone is working hard to achieve our goals. We don't want to have to resort to winning the final game to get into the playoffs," Dedini said.
But with two losses to Weber State and Idaho State over the weekend, the Hornets' chances of playing in the Big Sky Tournament will come down to their final conference game against Portland State.
Only the top four teams will move on to the Big Sky Tournament. The Hornets will need to defeat Portland State and hope a team with four conference wins – Northern Colorado, Idaho State, Weber State and Montana – loses in order to move up the rankings.      
"Every point that we get from now on really matters," Tomasello said. "It is preparing for conference, and conference is what matters."
The Hornets will travel Friday to play against Portland State.
James Heck can be reached at [email protected]