Women's cross country drops to Nevada in unexpected relay race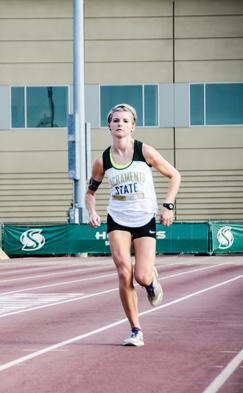 The Sacramento State women's cross country team lost to the Nevada Wolf Pack Friday in a dual meet at the Rancho San Rafael Park at the Nevada Chase Race. The Wolf Pack beat the Hornets 23-32 in their final home meet of the season.
The Wolf Pack had three of the top five runners, including the top overall finisher Samantha Diaz who finished with a time of 22:53. Demerey Kirsch came in second for Nevada with a time of 23:12.
Justine Rea of Sac State came in third overall and first for the Hornets with a time of 23:38. Hornet Chloe Berlioux followed close, placing fifth overall and second on the team with a time of 23:43.
"We were all geared up for it," Berlioux said. "It was super exciting. I think we all did really well."
The Chase Race featured a very small field with only 17 athletes competing.
The meet also offered another challenge, which featured athletes running four legs of the race – two miles, a half-mile, a mile and finally, the last half-mile.
"We were like, 'What? This is so weird. I don't understand,'" Berlioux said.
For the first two miles, three waves of runners started 30 seconds apart. The lower ranked runners started first, followed by the middle-of-the-pack runners and then the highest ranked runners – hence the Chase Race title.
Once the first runner finished the two-mile segment, a three-minute rest period began.
The race then turned into a relay style format of two-person teams. One runner would run a loop, pass the baton to her partner and then run the same loop. The teams did this relay exchange over 800 meters, one mile and then a final 800 meters.
The times were added from each leg of the race to create a four-mile time for each runner.
Berlioux said the race felt more like a workout and prefers the traditional race format, but the chance to carry a baton in a cross country race was different and exciting.
"It was a good way to break it up," Berlioux said. "You are always competing and it gives the girls something to do in the middle. You kind of always have something to think about."
Although the Sac State men's team did not compete this week, both squads will race on Oct. 13 at the Santa Clara Bronco Invitational at San Jose.
The Hornets finished as follows:
Hornet Women
• Junior Justine Rea, third with 23:38
• Freshman Chloe Berlioux, fifth with 23:43
• Sophomore Teresa Mallory, sixth with 24:17
• Senior Ashley Chavez, eighth with 24:30
• Freshman Amanda Garcia, 10th with 24:35
• Freshman Emily Johnston, 12th with 24:43
• Freshman Madison Cline, 14th with 25:17
• Sophomore McKenzie Paul, tied 15th with 25:23
• Sophomore Adrianna Royal, tied 15th with 25:23
James Heck can be reached at [email protected]