What the Heck? Is with school spirit?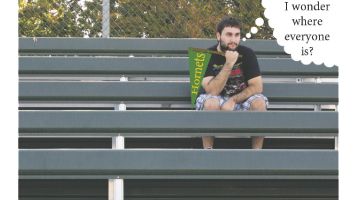 When it comes to school participation at sporting events at Sacramento State, it is not the buzz of hornets I hear – it is the sound of crickets.
I think a major problem with the lack of school participation in sports is the scarce advertising of games. Sure, there is often a large sign promoting an upcoming football game positioned on the grass divider as you turn into the campus from J street and yes, the sign is an informational reminder of the game, but it does nothing to lure the viewer in.
Signs promoting Hornet games need to explain why the said game is important, if it is important at all. If students knew of the relevance of the game, school participation could increase greatly.
Aside from the one sign placed on the center divider at the entrance of the campus, I really have not seen many other posters or flyers promoting games. In fact, football is the only sport I have seen promoted. I mean, do students even know Sac State has a gymnastics team?
Walking around campus for the first couple weeks of the fall semester, I noticed more effort put into fraternity, sorority and club sign-ups than promotions of Sac State sporting events.
Other aspects of Sac State are important, but perhaps there is just not much hype around Sac State sports.
When you look at larger schools on the west coast such as Oregon University, UCLA, USC and Stanford, the athletic departments and social aspect of attending games are a major reason students choose to attend those schools. During football games, the stadiums are almost always full with students and fans alike.
Michigan Stadium at the University of Michigan, for example, can hold roughly 110,000 fans. Just the sheer size of the stadium indicates to me this school expects school participation, and therefore plans for it.
Obviously Hornet Stadium is not as big – it holds roughly 21,000 seats – but I'm not so sure there are expectations for students to attend sporting events.
A lot of people I have talked to at Sac State say they simply drive to the campus, go to class and then drive home. I admit, I also do the same thing.
Perhaps there is not much involvement from fans at sporting events because of a certain image they have of Hornet athletics or the school itself.
Some people may not view Sac State as an athletic-based school. The reputation of Sac State athletics does not, however, improve when fan participation continues to be at minimal levels.
There have been efforts by the Green Army, a student booster group, to increase awareness and participation of students at Sac State athletics events. I think this is a great step in the right direction to raise school spirit.
Who knows, with an increase in school spirit from Sac State students, maybe our Hornets can notch a few more wins.
James Heck can be reached at [email protected]