The Hornets get stung by UC Davis men's soccer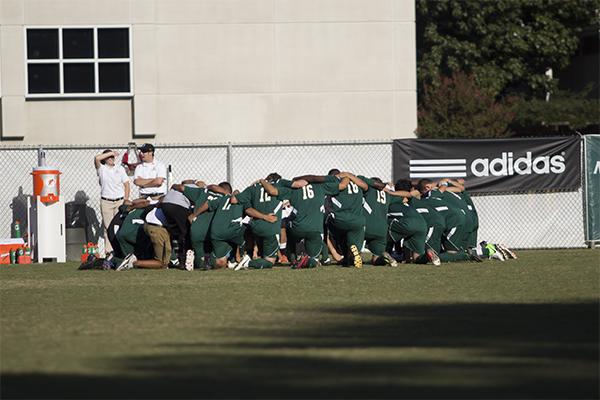 The Sacramento State men's soccer team lost to Big West Conference opponent UC Davis 3-1 today at Hornet Field.
Throughout their first five conference games, the Hornets allowed only three goals while scoring seven.
In the last two conference games, the Hornets (7-6-2, 4-2-1 Big West) have scored only one goal and surrendered five – two to a loss against No. 16 UC Santa Barbara on Tuesday and three against UC Davis.
The Hornets jumped on the board first with a goal by forward Isaac Ikyurav. In the 40th minute, Gabe Silveira crossed the ball to Ikyurav in the opponent's box. Ikyurav's strike towards the near post deflected off the goalkeeper's hands and sent the game to 1-0.
Going into halftime, the Hornets had a 6-4 advantage on shots.
Aggie Brian Ford tied the game 1-1 in the 60th minute with a header off of a corner kick. Nine minutes later, Eric Budniewski pushed the Aggies into the lead 2-1 with a cross from Alex Aguiar.
The Hornets could not generate any offense to counter attack – they recorded zero shots and corner kicks in the second half. Aggie John Joslin scored the final goal of the game in the 79th minute, closing out an Aggie victory 3-1.
The game was a tale of two halves as the Aggies recorded 16 shots and three corner kicks in the final 45 minutes.
Sac State committed 11 fouls in the second half – totaling 17 for the game. UC Davis only committed three in the second half – totaling 11 for the game.
With the loss, the Hornets are now in third place in the Big West Conference North Division behind UC Davis and Cal Poly.
The Hornets' next game is Oct. 27 against Cal Poly at Alex G. Spanos Stadium. The teams tied 1-1 in their first meeting Oct. 12 at Hornet Field.
James Heck can be reached at [email protected]