Offensive line protects team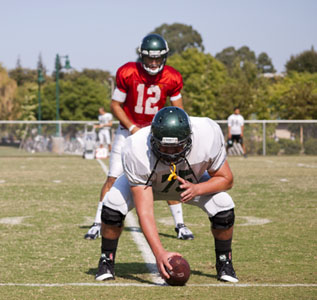 They are big, strong and sometimes mean. These fierce competitors are accustomed to sacrificing it all for the good of the team while doing battle in the trenches to protect the men behind them.
These men are not soldiers in a combat zone; they are warriors of the gridiron sent to shield their quarterback from blitzing linebackers and open holes for speedy running backs.
The Sacramento State football offensive linemen are a selfless group often having their work go unheralded as most fans and media seem more concerned with quarterbacks, running backs and wide receivers who garner much more love and attention. The gargantuan hogs up front are what make the entire offensive machine move.
"We are like the gas to the car," said senior starting center Clay DePauw. "The quarterback and running backs are like the car, but we are on the inside making the whole thing go."
Offensive linemen are not selfish when it comes to getting the accolades as long as the guys they protect show a little appreciation from time to time.
"You truly have to be a selfless person because you're not going to get any glory or attention," DePauw said. "The way that I get my glory is when a running back scores and comes back to hug me or when he mentions in the paper he got 100 (rushing) yards because of the O-line."
All members of the offensive line are required to act as a single unit while on the field. There is no time for a "me first" guy. Senior left tackle Vince Weaver said essentially the line has to use one brain to operate efficiently.
Weaver would like to think all offensive linemen are good, honest, hardworking and respectful people by nature, but he also acknowledges linemen have to be willing to do whatever it takes to get the job done.
"You definitely have to get a little dirty," Weaver said. "I like to get a little nasty and get after some people."
Weaver's teammate DePauw thinks it takes more than being a big guy to play on the offensive line.
"(Linemen) need to have a nasty streak," DePauw said. "(They) want to have an attitude so when they look at the guy across from them, they can put him on his back."
The Hornet offensive line is driven by the success of the team and it works hard to keep the quarterback clean. This season the Hornets have given up only six sacks through four games.
"My biggest motivation besides helping out my team is knocking people down, cut-blocking and just putting people on the ground every play," DePauw said. "For a running back it feels good to score a touchdown but I think it feels equally as good for me to put someone on their back."
Linemen have never been a heavily celebrated group throughout the history of football.
To the naked eye, the so-called skilled position players rule the game. However, behind every touchdown bomb, 50-yard field goal and power rush, there is a kind-hearted gentle giant knocking heads off as he clears a path for his teammate's road to stardom.
"We don't really need all the (attention)," DePauw said. "As long as (my teammates) respect what we do then it is good enough for us."
The effort of the studs up front has not gone unnoticed by the players they protect day-in and day-out.
"They think about me more than themselves," said junior running back Ezekiel Graham. "They go out (on the field) and put their body on the line (for me)."
Graham is the Hornets' leading rusher and had his first two career 100-yard rushing games behind Weaver, DePauw and their cohorts. Graham said he knows he is only as good as the guys who clear the holes for him.
"Nowhere," Graham replied when asked where he would be without the offensive line. "I wouldn't make it past the inch-line," Graham said. "I support them in every way. I trust in them and believe in them to do what they need to do."
Now, some might say comparing offensive linemen to troops in a combat scenario is too far-fetched, but the reality is these guys go out and risk body, life and limb for a cause greater than themselves, just as any other band of brothers have.
Joe Davis can be reached at [email protected]