Men's soccer is noticed as Big West Conference awards Oliver and Ikyurav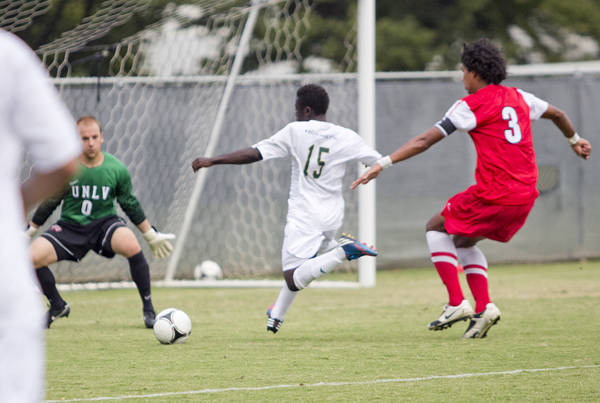 The Sacramento State men's soccer team featured two recipients of the Big West Conference weekly awards as forward Isaac Ikyurav received the offensive player of the week and goal keeper Bryan Oliver received the defensive player of the week.
Ikyurav also garnered national attention as he was named to the Soccer America Men's National team of the week. He joined 10 other players across the nation in the achievement.
After losing three straight games in the beginning of September, the Hornets pulled off a 3-2 victory in overtime against their final non-conference opponent UNLV. After scoring two goals, including the game-winning goal in overtime, Ikyurav said he started to make a name for himself.
With a tie-breaking goal against UC Irvine Sept. 28 and an assist in overtime against CSU Northridge Sept. 30, Ikyurav took home the award for the first time in his career.
"I really did not change anything," Ikyurav said. "I knew I did good in the UNLV game, so I told myself to just keep doing what I am doing."
Although Ikyurav said he is excited about the award he received, he also noted that it would not have been possible without all of his teammates.
"I just wanted to help my team the most I could," Ikyurav said. "That kind of pushed me to work harder. I'm really excited, but it just goes to show just how hard we have been working together as a team. It was possible because of teamwork."
The Hornets (6-4-1, 3-0 Big West) are on a four-game winning-streak, which includes three straight wins against Big West opponents.
After stopping seven shots on 15 attempts, including two shots in the final three minutes at the UC Irvine game and shutting out CSU Northridge, Oliver also took home his first Big West Conference defensive player of the week award.
"It's a big award to get," Oliver said. "I wasn't expecting to get it."
Like Ikyurav, Oliver also said the team was a major contributor to the award, especially the backline of the defense.
"I feel it is more of a team award," Oliver said. "They just recognize me as an individual."
Oliver totals three shutouts on the season as the starting goal keeper for the Hornets and said he is looking forward to every remaining game.
"The main goal is to shut out the other team," Oliver said. "It is hard to get on top, but it is also harder to stay on top. We just want to keep it rolling."
James Heck can be reached at [email protected]