Men's basketball star point guard attempts to avoid sophomore slump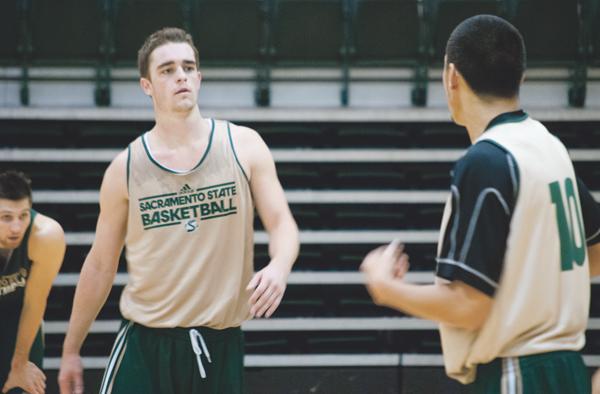 How will Sacramento State men's basketball point guard and 2011 Big Sky Conference Freshman Player of the Year Dylan Garrity avoid a sophomore slump? Garrity will get it done with hard work and a lack of awareness.
"I had actually never heard of it until the end of last season," Garrity said. "I guess there is a little curse or something going on, but I do not even know about it."
Garrity came into Sac State highly accomplished. He is the all-time career assists and points leader at Edison High School in Huntington Beach. Garrity also had his jersey retired at his former high school.
As a freshman for Sac State last season, Garrity led the team with 193 assists for the season which was the second-best mark in school history. In a game versus Montana State, Garrity dished out 16 assists which set the all-time single game mark for Sac State.
Garrity ranked among the nation's best for assists. His 6.9 assists per game was the sixth best mark in the NCAA.
In sports it is a-what have you done for me lately- world. With all Garrity accomplished last season he will have to take on a bigger role this season to prove it was not a fluke.
"I started working on my scoring so teams cannot just focus on my passing," Garrity said. "Now I think if (teams) have to worry about my scoring and passing, I will be tough to guard."
In 2011, Garrity found himself to be smaller than opposing point guards. He would get pushed off of his spot because the college competition weighed more than opponents he was used to facing in high school.
"In the offseason I worked on getting bigger, stronger and quicker." Garrity said. "Compared to the start of last season I have put on a solid 10 to 15 pounds."
Garrity said he hopes the added weight and strength will allow him to push through defenders which will make him more of a physical presence on the floor.
Garrity should benefit this season from the lesson of 2011. The fire-power the team is bringing back on offense will help the Hornets' primary ball handler reach further into the record books.
"Having those five seniors come back is going to be huge," Garrity said. "We will have a lot of go-to scorers and a lot of experience. The experience is going to be the most important part.
Basketball is a team sport requiring more than one man to do all the work. Garrity's teammates know his play will only go so far, and they will have to do their part in order for the team to succeed.
"With the way Dillon played, it is not like he was a huge scorer for us," senior guard Joe Eberhard said. "He mainly had assists and I do not know how he will slump in assists with all the threats we have coming back."
Head coach Brian Katz said the pressure for Garrity to match all of the off-the-court accolades and to avoid a sophomore slump is non-existent. Katz said the only change in pressure should be on the court.
"Last year teams could focus on Dylan and pressure him because he was the primary ball handler," Katz said. "This season we brought in (freshman guard Cody Demps and junior college transfer Mikh McKinney) who can handle the ball and take some pressure of (Garrity)."
There is little doubt Katz and the rest of the Hornet hoop-squad are key elements in the continued ascension of Garrity's Sac State career. The sophomore guard will also have to rely on his Steve Nash-esque game to try and carry his team to a Big Sky title and a trip to the NCAA tournament.
Joe Davis can be reached at [email protected]