Linebacker Badger leads by example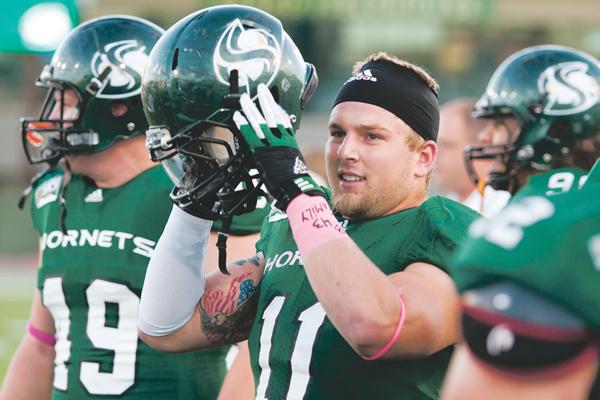 Jeff Badger is a senior leader on a Sacramento State team off to its best start in 20 years.
The linebacker out of Windsor, Calif., a small town near Santa Rosa, played high school football at an all-boys school, Cardinal Newman.
Badger was a standout as a running back and linebacker, helping his team to an appearance in the Division III championship game while earning DIV III Player of the Year honors for Northern California.
"(Jeff) is one of those special guys that (I) will always remember," said Badger's varsity high school coach Paul Cronin. "He was a leader on the field, in the locker room and in the weight room because he was so driven. As I look back I can say that he was one of the best players that we have ever had."
As Badger wrapped up his high school career, scholarship offers were limited. Some schools overlooked Badger because of SAT scores and others questioned Badger's size.
Schools thought Badger was too short at 5-feet-11-inches to play linebacker or too slow to play running back at college level.
In a decision that came down to playing for Air Force or Sac State, the Hornets were the best fit for Badger because they provided the biggest opportunity to showcase his ability.
"I did not want to give an 11-year commitment to (the Air Force)," Badger said. "I would rather enjoy my time in college and have fun while I am doing it."
Badger has taken full advantage of his time at Sac State. He started at two positions for Sac State other schools doubted he could play at all.
During his time playing football for Sac State, Badger has played running back, special teams and has starred at linebacker.
During the Hornets' 2012 campaign, Badger ranks at the top of the Big Sky with 55 total tackles, two interceptions and one sack to his credit.
Against North Dakota on Sept. 22, Badger recorded his first career interception and two weeks later he nabbed another one against Southern Utah earning him Big Sky Player of the Week honors.
"My pass coverage had been a (weakness) in the past so I worked on it during the spring." Badger said. "But with (my first interception, the quarterback) really just threw it right to me so all the practice catching the ball worked."
Badger has been enlisted by the coaching staff to serve as a part of a leadership group that helps run the team. Badger said the added expectation as a leader off the field has helped to elevate his play on the field.
"(Coaches) told me last season that I had to grow to be a leader and even as a sophomore it was talked about," Badger said. "They told me I had to take over the leadership role. I accepted the challenge and I think I have done a pretty good job so far."
As the leader on defense, Badger is thought of as an extension of the coaches while the team is on the field during games.
"(Jeff) has done a phenomenal job and he is definitely the hub of communication," said linebackers coach Tyler Almond. "He gets guys into the right checks and calls. He is the quarterback for defense so to speak."
Even with all of the accolades, success and attention from coaches, Badger seems to remain focused on the task at hand: making the playoffs.
"After the (Colorado) win I kept telling myself we have not done anything," Badger said. "It was just one win and we have to win more than one game to get into the playoffs."
As a senior Badger is starting to realize how fleeting his time at Sac State has been.
"As soon as spring ball hit I thought about this is the fastest four years of my life," Badger said. "I am already in my senior year and it is crazy. I just live up to every moment because it could be my last (chance) to play football."
After this season there is no doubt the Sac State coaching staff will be hard pressed to find a viable replacement for Badger on and off the field. Badger has become a player who coaches use as the example of how they want members of the program to be.
"He is a locker room hero," Almond said "He gets a lot of respect from (teammates) for the hard work that he has put in and he has definitely earned his stripes."
Joe Davis can be reached at josephdavis.saclink.csus.edu.