Hornets to face top team in FCS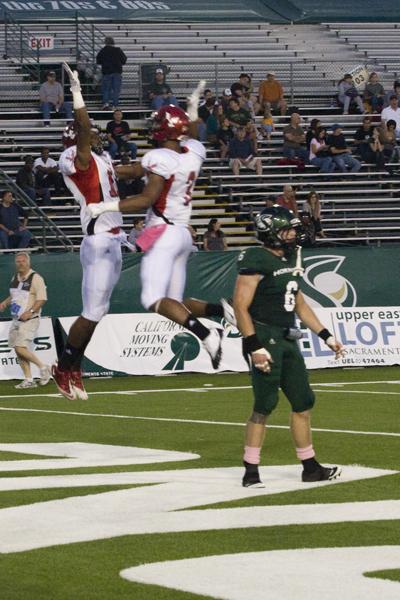 " class="catboxphoto" />
State Hornet Staff
October 17, 2012
To be the best you have to beat the best, but beating the best requires preparation.
Sacramento State football prepares for its toughest opponent to date, as the Hornets travel this Saturday to face No. 1 Eastern Washington.
The Eagles have soared atop the rankings all season, but finally claimed the No. 1 spot after defeating Montana State last Saturday.
Holding the top spot is not new to Eastern Washington. The Eagles ended the 2010 regular season and started the 2011 season as No. 1.
"They have a good football team," said Sac State head coach Marshall Sperbeck. "They play very sound on both sides of the ball."
No matter what the Eagles are ranked though, Sperbeck said he will not change practice schedules or any other preparations. He will treat it like any other game.
Eastern Washington leads all Big Sky Conference teams in defense this season as they have allowed an average of only 20 points per game.
Part of the reason the Eagles defense has been successful is veteran leadership.
Senior defensive end Jerry Ceja has seven sacks this season and junior defensive back Allen Brown has forced a pair of fumbles.
On the offensive side of the ball, junior Brandon Kaufman leads all wide receivers with 101.5 yards per game and this season has four games with more than 100 yards receiving.
Although Kaufman leads the Eagles in both receiving yards and touchdown receptions, Sac State defensive back Ryan McMahon said the team needs to be prepared for the entire offense
"They have five guys that can catch the football," McMahon said. "They are a good football team."
This is not the first time Sac State has faced the top team in the nation. The Hornets faced Montana when it was No. 1 in 2007, but McMahon said the ranking does not matter.
"We take the game seriously, whether they were unbeaten or haven't won a game," McMahon said. "I doubt (their ranking) will even be talked about much. Whether they are ranked No. 1, No. 10 or No. 25, it does not matter."
After Eastern Washington, the Hornets will face two more nationally-ranked teams but Sperbeck said he wants to take one game at a time.
Kickoff is at 4 p.m. and can be seen on the Comcast Hometown Network – channel 104. 
Ryan Kuhn can be reached at @rskuhn