Embracing fight over flight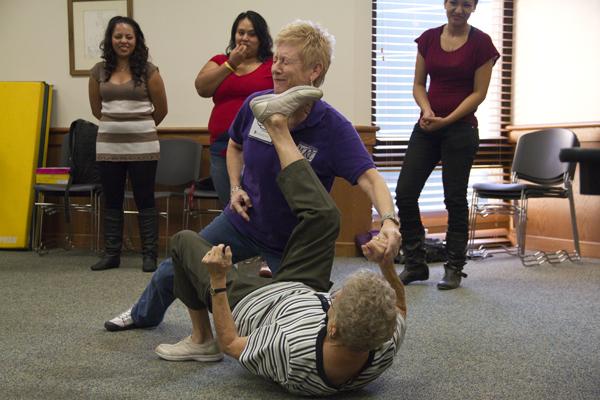 Sacramento State kinesiology teacher Midge Marino presented "Trade Your Fear For Anger," a self-defense workshop for women, on Thursday.
Marino, who is 74 and has been doing judo since 1956, said she wants women to fight back in case of an attack, listen to their natural instincts and to be able to take care of themselves.
"We are told a male is to take care of (women)," Marino said. "What if he's not there? What (this idea) does is instill fear in women and make them feel incapable of taking care of themselves. If (women) are able to fight for their own children to the death, they can do the same thing for themselves." 
Some of the techniques Marino taught the class were how to fight an attacker with the heel of their palm, to kick the attacker standing behind them and various self-defense moves used to subdue an attacker.
Marino also taught the class the importance of yelling to repel the attacker who gets too close for comfort.
"In other words, they're either running away from you because that's something that is not expected of (women) or they come back after you and then you have to finish the job," Marino said. "You want to keep them on the ground and report it as quickly as possible."
Marino stressed it is better to fight the attacker than to ignore them.
"Never run away because it shows fear and that's what (attackers) like," Marino said. "That's what they're all about and that's why I call them cowards."
Liberal studies senior Victoria Fossett said the methods taught in the workshop are different from what she learned from her kickboxing class.
"I think it's excellent because I did a couple years of kickboxing way long ago," Fossett said. "It's interesting to see the stuff you instinctually would do are things you shouldn't do."
Rachel Symon, the outreach coordinator for the Women's Resource Center, said Marino's self-defense class is vital for everyone because they're techniques that one should know in case of an attack.
"It's an important skill for anyone to have and it's not just for women," Symon said. "We think it is important that everyone have the opportunity to learn these skills."
Marino not only stressed that women should fight back, but she said women  have to be confident in their skills and hopes the workshop will help women find confidence within themselves.
"I hope they will feel more confident in themselves and be able to take care of themselves and not depend on anybody else," Marino said.
Fossett said one of the fundamental things she learned from the workshop was exuding confidence will ward off unwanted male attention. Fossett said confronting catcallers rather than timidly walking away will make them leave you alone.
"My idea was just to get away versus taking my time and saying 'You know, I'm not going to be intimidated and run away' and give into that fear," Fossett said.
A veteran to self-defense, Marino said she loves what she does and the empowerment she imparts to the women who attend her classes.
"I love what I do and I'll do it until I die," Marino said.
Camille Anglo can be reached at [email protected]