Easy-to-make mummy snacks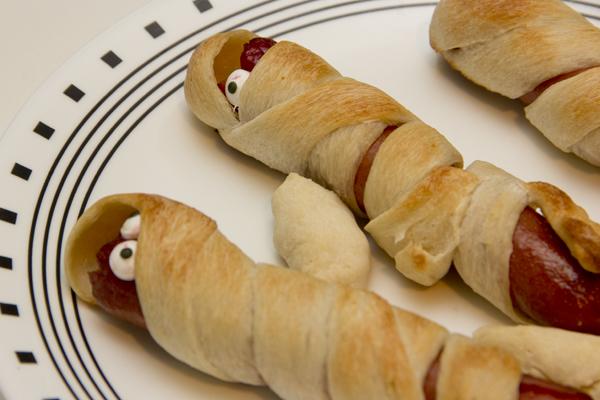 Halloween is a time to trick or treat friends and tricking friends is an unwritten rule of Halloween.
Every year I come up with new ways to trick my friends. This year I decided to be nice and give them a treat instead. They are too old to go trick or treating and I don't feel like cleaning up after a Halloween party.
Mummy dogs are the solution to my problem, since they are college students.
Mummy Dog Ingredients
1 (11 ounce) can of Pillsbury breadstick dough
8 hot dogs
Wooden toothpicks
Cooking spray
Ketchup or mustard
Candy eyeballs (optional)
Preheat oven to 400 F.
Unroll the breadstick dough and separate the 12 strips. Only eight strips will be used to wrap the mummy dogs; the rest of the strips will be used to make the arms and legs.
Gently stretch each strip so it is about eight inches long.
Wrap one dough strip around each hot dog to resemble a mummy. Secure the dough with toothpicks if necessary.
Rip strips of the remaining dough into small pieces. Shape them into arms and legs. Attach them to the body of the mummy dogs. Leave out an arm or leg to give the mummy dogs some character.
Coat each mummy dog lightly with cooking spray and place on a slightly greased baking pan.
Bake them for 15 minutes or until golden brown.
Let the mummy dogs sit for five minutes to cool off. Remove the toothpicks if used.
With either mustard or ketchup add eyeballs to the mummy dog.
Another option is candy eyeballs.
The next time you decide to entertain your friends for Halloween, give them a mummy dog as a treat, but don't forget the unwritten rule of Halloween.
Miguel Lopez can be reached at [email protected]