Volleyball prepares for tourney in Fresno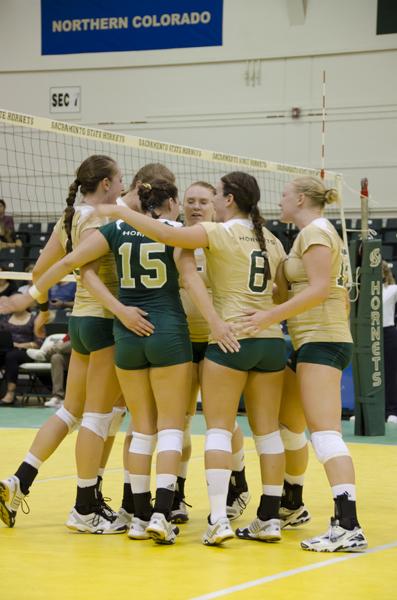 The Sacramento State women's volleyball team is set to hit the road again as it travels to the Save Mart Center at Fresno State to take part in the Fresno State Invitational tournament marking the first time in two years that Sacramento State has received an invitation to the tournament.
The Hornets last competed in 2010 when they won one of three matches including a loss to then-nationally ranked seventh University of Southern California.
The 2012 tournament will feature matches against the Fresno State Bulldogs, Utah Valley University Wolverines and the Hornets' causeway rival: the UC Davis Aggies.
The Hornet's match-up will be against Fresno State (4-2) of the Mountain West Conference.
The Bulldogs are led by 6-foot-1inch outside hitter Marissa Brand and 5-foot-11inch outside hitter Korrin Wild.
Brand, a redshirt junior, was the team's statistical leader last season with 3.94 kills per set. She also contributed over 2.5 digs per set.
Wild is a junior who has also played a key role with the addition of 2.55 kills per set and over three digs per set in 2011.
On day two of the tournament, Sac State will play two matches: the afternoon match will be against Utah Valley and an evening opponent will be the neighboring UC Davis Aggies.
Utah State (1-3) hails from the Great West Conference. It brings to the court the 6-foot-1 inch outside hitter Lindsay Morrell.
Morrell, a junior, has averaged 2.77 kills per set so far this season. Her teammate McKenna Tait has been an all-around weapon.
Tait is a sophomore defensive specialist but does not limit her game to solely defensive duties. This season, Tait has tallied 2.5 digs per set along with more than two kills per set.
The Hornets will wrap up the tournament as they meet up with heated rival UC Davis (2-4) of the Big West Conference.
UC Davis will rely on veteran upperclassmen like the 6-foot-1 inch senior Allison Whitson. Whitson is an outside hitter that has thrown down more than three kills per game this season. She also chipped in more than 2.5 digs per game on the defensive side.
Whitson will team up with junior outside hitter Devon Demelio. The 6-foot-1 inch offensive force has averaged almost three kills per set and she has put in work on defense with 2.13 digs per set.
However, the Hornets will have tough veteran leadership to combat their opponents' fire power. Sac State will be led by senior Co-Captains Jessie Genger and Jannelle Currey.
Genger, the product of Kent, Wash., is a 5 foot 11 inch outside hitter who has already put forth a strong showing in the season opening tournaments at the College of Charleston and the Sacramento State Invitational.
Genger set career-highs for kills in a single match with (20) at the Sacramento State tournament and kills for a tourney with (45). Her performances earned her All-Tournament honors in the Hornets home tournament and at the College of Charleston tournament.
Currey is a 5-foot-10 outside hitter with high awareness that fuels her all-around game.
This season, Currey is averaging more than 3 kills per set while adding more than three digs per set.
Junior setter Hannah Hettinga should also be able to ante up some aid this weekend.
Hettinga is averaging more than 10.5 assists per set and more than two digs per set.
In the Sac State Invitational, Hettinga matched her career-high for a single match when she dished out 45 assists against the Boise State Broncos.
The Hornets have been able to display the 6-2 scheme only on a limited basis. This set would open up the offense.
The Hornets had practiced the 6-2 throughout camp in August but so far injuries have forced head coach Ruben Volta to use alternate line-ups this season.
The Hornets are unsure of when they will get Kiley Mansfield back on the court. The 6-foot-2 sophomore transferred from New Mexico State in the spring of 2012.
Due to a shoulder injury that happened late in camp, Mansfield has been unable to get any regular season game action. She has received high praise from her teammate and co-captain Currey for her efforts in camp.
The Hornets will have to use a "next woman up" mentality as they head into their next match.
First serve will go up against Fresno State on Friday at 6:30 p.m. in Fresno. Saturday's schedule will be Utah Valley at 10 a.m. and UC Davis at 5 p.m.
Sacramento State Invitational results:
Game 1 vs. Boise State W 3-1
Game 2 vs. Morgan State W3-1
Finals vs. Saint Mary's L 0-3
Joe Davis can be reached at [email protected]