Men's soccer defeats San Diego in overtime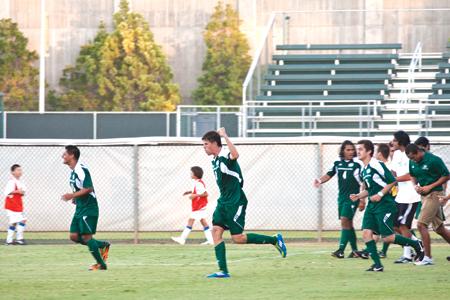 State Hornet Staff
September 4, 2012
With a diving goal by Matt Linenberger less than two minutes into overtime, Sacramento State Men's soccer team defeated the University of San Diego 2-1 on Friday at Hornet Field during the team's home opener.
With the majority of the game defined by 24 fouls and five yellow cards, the Hornets were the first to strike with a midfield goal from senior Chris Sandoval.
65 minutes into a scoreless and penalty ridden game, San Diego's Christian Duke lost the ball to Sandoval who quickly took the shot. From yards behind the midfield line, Sandoval sent a high kick towards the goal that flew over San Diego goalkeeper Michael D'arrigo's head and went in.
"None of us even knew what he was doing at first, " Linenberger said. "He lifted up his head for a minute and you got to have complete skill to drive it in and get that goal."
Sandoval said he had good reason for his unorthodox goal.
"The funny thing is, I was watching him throughout the whole game and thinking he was off his line," Sandoval said.
Compared to only 7 shots in the season opener against Oregon State, the Hornets recorded 20 against the Toreros. Sac State head coach Michael Linenberger said there was a reason for the big difference.
"We felt all three of our previous games, our two scrimmages and then the one regular season game, we came out slow," Linenberger said. "We said we're at home, they're traveling, we need to dictate the energy of the game."
After surrendering four goals in the season opener, junior goalkeeper Cesar Castillo was replaced by senior Bryan Oliver. Linenberger said the change of goalkeepers was not the reason for an improved defense, but because of a more defense-minded focus.
"I thought we had the whole team buy into energy and effort to defend as well as bring energy and effort to runs going forward, to put the opponent's defense under pressure," Linenberger said.
With the Hornets holding onto a 1-0 lead with one minute left, San Diego scored on a header from a free kick by Dan Delgado to Thomas Fiskerstrand, which sent the game to overtime.
Less than two minutes into overtime, the Hornets scored on a free kick header resembling San Diego's game tying goal just minutes before.
Taken by forward Max Alvarez, the free kick found a diving Matt Linenberger who headed it in to win the game.
"I was fortunate enough to make a back post run and Max just saw me on the back post, made eye contact, knocked it in and I was able to head it in," Linenberger said.
Rudy Saenz can be reached [email protected]