Football uses momentum of big win to prepare for Northern Colorado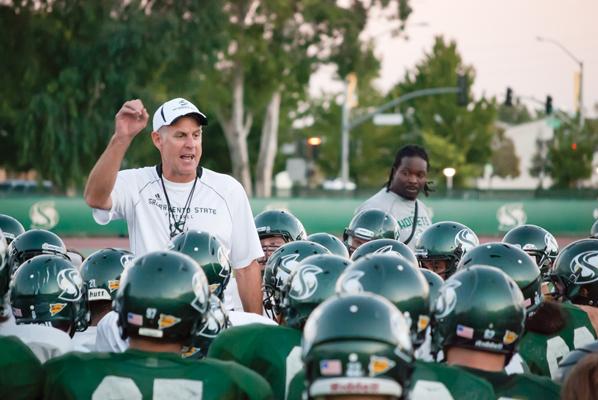 State Hornet Staff
September 13, 2012
Time for celebration was over when Sacramento State's football team returned home Sunday from Colorado.
Fresh off their upset win against the Buffaloes, the Hornets took to the practice field to begin preparations for their home opener against Northern Colorado.
"You don't get enough time to enjoy a good win like this," said head coach Marshall Sperbeck. "You have to get yourself refocused because it is short lived and the next team coming in is going to be fully prepared."
The Hornets were unable to capitalize on their win against Oregon State last year, losing their next two games to Southern Utah and Weber State. Sperbeck said this year's team is more mature.
"Last season was tough in many different ways," Sperbeck said. "We weren't used to that attention and the kids started to get ahead of themselves. I hope we can do a better job of handling our success than we did last year."
Northern Colorado comes off its first win, defeating Colorado Mesa College last week 40-3. This was the school's first win since November 2010.
Bears' second year head coach Earnest Collins Jr. said the win takes pressure off his team, but knows Sac State will be a challenge.
"They look good on both sides of the ball," Collins Jr. said. "I'm impressed by how they move on defense and their quarterback makes everything go. We have our work cut out for us."
The Bears will feature junior quarterback Seth Lobato, who struggled in his first game against Utah, throwing for only 74 yards. He recovered this past week against Mesa, tripling his previous game's total by throwing 260 yards, including a touchdown pass.
Junior running back Tromaine Dennis also ran for a season-high three touchdowns to complement the passing attack.
Last season Dennis started all 12 games for Butte College in Oroville, where he led the team with 1,065 yards and 13 touchdowns.
"He has both the power and the quickness you look for," Collins Jr. said. "We were fortunate to get him."
Sac State football has a perfect 6-0 record against Northern Colorado and will look for its first three-game win streak since 2010, when the Hornets defeated Northern Arizona, Portland State and Idaho State in consecutive weeks.
Hornets' linebacker Jeff Badger said last week was just the start and hopes for improvements from his team each week starting Saturday when it faces off with the Bears.
Although both schools are members of the Big Sky Conference, this game will not be a conference matchup. Kickoff is at 2:05 p.m. at Hornet Stadium.
Ryan Kuhn can be reached at @rskuhn