Strahan gets 800th win of her career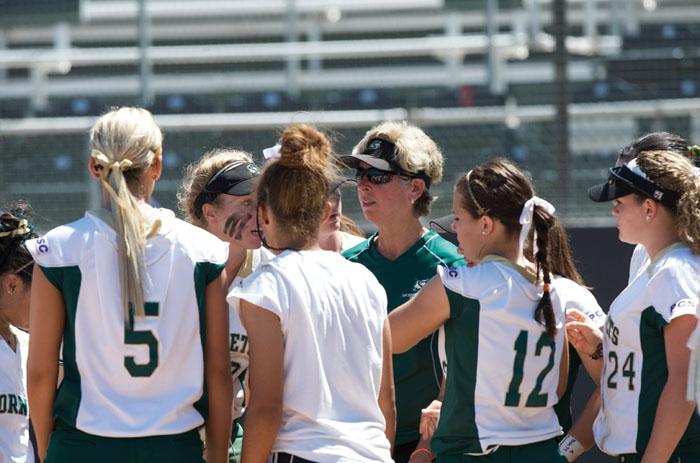 Sacramento State's softball head coach Kathy Strahan became the 52nd head coach in NCAA history to reach the 800 wins mark on the final day of the regular season after the Hornets beat the University of San Diego twice in a doubleheader on April 29 at the Torero's Softball Complex.
 Strahan joins former volleyball head coach Debby Colberg (825 wins) and former baseball head coach John Smith (879 wins – most wins in Sac State's history) as the only coaches at Sac State to reach the 800 wins milestone.
 Strahan's 800th win on Sunday afternoon came on the same field where she earned her 700th win on May 3, 2008. The Hornets finished the season with a record of 27-19 and is out of championship contention this year, but motivation remained on every players mind to help reach that 800 win milestone for coach Strahan said senior Alyssa Nakken. 
"When she was around 780 wins during our 10-game winning streak, Ryan (Bjork, assistant media relations at Sac State) was the one who actually told me about it," Nakken said. "So, we put it in our locker room, let's get this milestone for coach Strahan. We definitely we're shooting for that, but also for a conference championship. But every win would also get her close to her milestone."
 In that 800th-win milestone game, Nakken led Sac State to a win when she sailed a three-run home run in the sixth inning to break a 1-1 tie in Game 1 of the doubleheader. The Hornets would win the game by a final score of 4-2, achieving the goal for their coach. 
Strahan, in her 20th season as head coach, said she had a lot of help along the way in achieving this milestone and did not want to personally take all the success she has had individually. 
 "I have enjoyed, obviously, the career path I have chosen," Strahan said. "When I think of those numbers, I think of the wins and losses, it's a lot of ball games. And I really have so many wonderful athletes and coaches to attribute that success to. It wasn't all me, I had great people along the way and had great people going into 800 and 801."
 Emotions ran high as the San Diego announcer informed the fans in attendance about the milestone that had been reached by coach Strahan, said Nakken. She said there were tons of Sac State fans in attendance at the game, which meant a lot to the team that people would show up and help share this huge accomplishment their coach had achieved. 
"I hugged all the team and all my coaches, I cried, I cried you know, it's a long time," Strahan said. "And I was really touched that there was a spectacular performance by two seniors, Shelby Voelz, who in that game had probably the best game of the season. And Alyssa Nakken, who swung that bat and watched that ball go as she just flipped it like they do in the major league. Those are special moments that I'll always remember of that game that really just put the kiss on it for me."
 Strahan said she also appreciated the attention from people on campus congratulating her on her success.
 "It's really nice to see that people recognize athletics here at Sac State," Strahan said. "And are watching the website and just know what is going on. And I have had a lot of well wishes from all over the country."
Sophomore Taylor Stroud said being in the moment of sharing the experience that was happening on the field with her coaches, teammates and fans was surreal. 
"It was so awesome, we all ran out and being a part of helping her accomplish this milestone was really cool," Stroud said. "I knew we could do it going into the next day. I had confidence that we could beat them because of the other two games on Saturday had been close and especially our hitters we're doing great against their pitching."
 Assistant head coach Cara Hoyt, who has been on Strahan's coaching staff for seven years, said during the game there was not much attention being made about the 800 wins. Hoyt said at the time the coaching staff was focused primarily on winning instead of individual goals, but once it started settling in on everyone the excitement could not be ignored.
"Eight hundred wins is a lot and it brought back the same feelings of excitement when she won 700 wins," Hoyt said. "She is an incredible person that puts so much into the program and players."
Hoyt also said over the years Strahan has given her personal insight in what to expect from the game and how to handle players reaction.
"She is a very calming person and can help you understand what is going on which has helped me as a coach," Hoyt said. "She has always been that mentor and guide for me over the years in life. She makes herself available all the time for the players and coaches, and it really contributes to her success."
 Nakken and Stroud feel the two best attributes coach Strahan has are being prepared every game and the approach she takes outside of the game of softball.
 Nakken said Strahan's film sessions during the team meetings teaches her a lot of what to expect and how to be prepared for the team they will be facing. Also, the signs of what to expect from batters that are coming up to hit, so pitchers can place the ball where it needs to go. 
"She also has us practice at game speed, which is so important and I think that's why she has been so successful," Nakken said. 
 Stroud said the thing she appreciates most about Strahan is the time she takes to know how her players are performing in the classroom because she not only wants them to excel in softball, but in school and further down in life. 
 "All the coaches put a lot into our education," Stroud said. "They really monitor our grades and make sure we're getting up to par. Also, they always make themselves available for us. We have end of the year meetings where we can just talk to them about anything other than softball." 
Looking ahead to next season and trying to build, not only on the success of what the head coach has accomplished, but what the team has done, Strahan said there are many challenges to come for her young team to face that will feature four seniors next year. She also said she has plenty of desire to continue coaching for many years to come.   
"I enjoy working with the athletes and as long as I can do that I'll stay in it," Strahan said. "We got some challenges coming up."
Strahan said the team will face a new obstacle when merging into a new conference.
 "We are falling in line with the majority of our sports and will be going into the Big Sky Conference next year," Strahan said.  "It's a brand new conference. It's not going to be weather friendly, it's going to be a challenge for us with the increase travel and lost class time that we have not had to deal with before. But we're just going to have to deal with it in order for us to move forward."
Gabriel Pacheco can be reached at [email protected]