Sacramento Vegan Challenge: '1000 Vegan Cupcakes for Charity'
Last weekend I had the honor of becoming overly stuffed with vegan cupcakes made by 11 restaurants and bakeries in town competing to make the best vegan cupcake. 
The Sacramento Vegan Challenge's Bethany Davis – K-12 teacher and vegan enthusiast – and other members worked together put on the first "1000 Vegan Cupcakes for Charity" event on Earth Day and I was asked to be a judge a few weeks prior. When I found out about it, I was ecstatic – and curious why they wanted me – to be asked to participate in such a sweet (literally) event.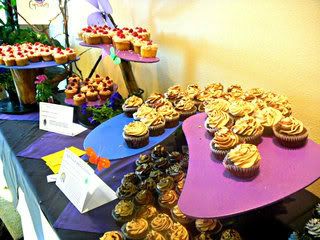 When I walked into the Tower Bridge Bistro – where the event was held – it was more than I had ever expected it to be. Colorful, delicious cupcakes were scattered throughout the room, decorated with everything from chocolate covered almonds and raspberries to coconut flakes, giving me an almost uncontrollable desire to pounce and devour every single one. Of course, I politely waited for the devouring and listened to the judging instructions first.
I thought I could handle it. But as cupcake after cupcake continued to roll in – although my taste buds were continuously satisfied – it was hard for my stomach to sample the last few ones. I did it, though, and I feel like a champ. Take that, 'Man vs. Food.'
On top of the vegan cupcake extravaganza, vegan ice cream, chocolate banana bon bons and mint chip ice cream, was served by Here's the Scoop! ice cream which is located at 3051 Freeport Blvd. in Sacramento.
Despite the wee bit of cramping I suffered and the few tasteless, dry cupcakes I consumed, the event was enjoyable in its entirety – with most of the cupcakes being irresistible treats. My favorite – also the winner in the taste category – was the toasted coconut cupcake made by Tower Bridge Bistro itself.
As someone who adores coconut, especially coconut oil, I had no problem biting into the large quantity of sweet, fluffy coconut frosting that was piled on top of the moist coconut cake. In fact , if it was just the coconut frosting alone, I would have still been completely satisfied. The toasted coconut on top added a wonderful crispy crunch and, although the size of this cupcake made it a bit difficult to eat – resulting in coconut bits scattered on my clothing and frosting around my mouth – I enjoyed every single millisecond of indulging in it.
Everyone vegan and non-vegan seemed to enjoy the cupcakes as well.
"[We] were able to demonstrate to the bakers themselves and to all of the people that came that you don't need animal-derived ingredients to create scrumptious, delicious cupcakes," Davis said.
The event raised over $1,000 which will go toward supporting organizations such as the Humane Society U.S./CA Projects, Sacramento Tree Foundation and the Center for Land-Based Learning.
I had the time of my life at this event – even the unexpected, nervous introduction I had to give to the crowd – and hope to be called back to participate in one of these vegan food challenges again.
Check out sacveganchallenge.com for more information on challenge winners, cupcakes featured at the event and more.
Janice Daniels can be reached at [email protected]